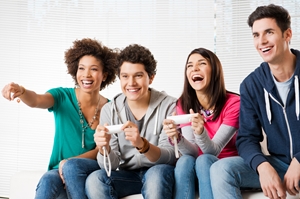 Over the years, we've talked a great deal about just what you can use you custom-designed shed for. Whether you've turned it into a craft brewery, writing room or home (garden?) office, the possibilities for your shed are limitless
Many people are now deciding to use their sheds as entertainment hubs. They mount enormous televisions to the wall, install a thumping surround sound speaker system, and deck it out with a vast array of comfortable seating options. And that's totally fine by us – a big part of the Shed Boss message is that your bespoke shed can be whatever you want it to be. With that in mind, let's take a look at transforming your shed into what many are considering a staple part of the home – a video game room!
Game Boy (or girl…)
Once a preserve of teenage boys (from a broad point of view!) the video game industry is one that's now worth billions of dollars. Indeed, according to the Interactive Games and Entertainment Association, revenue hit AU$2.83 billion in this country alone during 2015, and that's a number that's only set to rise. A huge part of video games' meteoric rise is that they are now played by almost everyone – from young girls, to grandpas, doctors, teachers… you name it, they've played it.
Look at the space you have available and use the Shed Boss app to help you create a bespoke gaming cave.
That's why the games room is appearing in homes the length and breadth of the country. However, if you don't have the necessary space to turn your basement or loft into a gaming haven, never fear! Shed Boss are on hand to help you design the ultimate gaming cave. Read on to find out how – game on!
It's entirely up to you what kind of shed you decide to use for your gaming area, but for the purposes at atmosphere and convenience alone, you don't need to go huge. Look at the space you have available and use the Shed Boss app to help you create a bespoke gaming cave. Now it's time to fill it!
TV Times
Of course, the centrepiece of any gaming room is the television. Gone are the days of huge, boxy TVs that required two people to carry – today, you can purchase giant-screen televisions that aren't much thicker than a piece of paper, and for the ultimate gaming experience, nothing else will do.
It's up to you whether you mount the screen to the wall or sit it on its own stand, but remember, if you're going to have speakers, consoles and other technology around it, wires will be out in abundance, and these can appear unsightly to some. Luckily, there are several cable organisers that can be had a for a pretty low price, which will keep all of those tangled wires in order so you can concentrate on your game.
Route of the issue
Online gaming is big business in the modern era. The days of huddling around a screen split four ways, squinting into a tiny section trying to figure out what is going on are long gone – it's all about online play in 2016.
Therefore, you'd be wise to invest in a dedicated gaming router that will ensure slowdown and lag rarely ruin a tightly contested game of FIFA. So, what makes a gaming router different to a standard one? Well, a gaming router will prioritise which of its assigned devices will get both more and more consistent broadband – that means your gaming consoles!
We can help get your shed rigged up by arranging for an electrician to have it all connected during the build.
For the true gamer, a big collection is not one that you'll want to hide away in the loft – it's all about displaying your wares. Hence, investing in some quality shelving will allow you to organise your collection as you see fit, offering you easy access to your games library – as well as wowing visitors to your game cave.
Bar of gold
There is no need to splash out on an expensive sound system to get the most from your games. In many cases, they can be bulky, take up too much space and be nasty to your wallet, so take a look at a sound bar.
Not only are these handy devices highly friendly to your bank balance, they also utilise very few cables, will fill a room almost of any size with sound, and can be used with all manner of hardware. A good sound bar will really immerse you in the game – whether you're in a footy stadium, running riot on the streets of London, or in the farthest reaches of outer space.
Purge the surge
In your gaming shed, think about how many electrical items are in there. You've got your television, consoles, speakers, router… the list goes on and on. At Shed Boss, we can help get your shed rigged up by arranging for an electrician to have it all connected during the build – a gaming area would be very quiet without the juice. It's important to keep all that power regulated, though, so invest in a surge protector that will keep all of your equipment safe should the worst happen.
Sit pretty
Of course, there are only certain games that are better enjoyed when standing up – those that utilise motion controls to capture your movement and translate it to the sprites on screen. For the majority of games, though, you'll be sitting down, and there are a plethora of dedicated gaming chairs for you to choose from. If you're more of a casual gamer, a comfortable settee or even a group of bean bags will absolutely suffice. Go with whatever is more comfortable for you – and your playing buddies!
Be sure to get in touch with the guys and girls at Shed Boss to get your gaming haven of the ground!