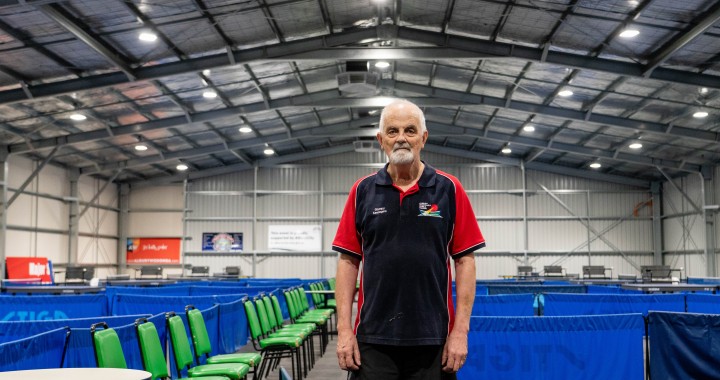 The town of Albury sits on the border between Victoria and New South Wales. In this small Australian village you might expect things to be a little more sedate. However, since 1950 it's been the site of many back-and-forth duals between fierce opponents. It's seen its share of rivalries and intense competition. You see, for over 60 years this has been the home of the Albury Wodonga Table Tennis Association. Where keen players have lined up to do battle and in the fast paced game for decades. The club has risen in popularity so much in recent years that it outgrew its original shed. Leading Secretary Kerry Bell to turn to Shed Boss for more court space.
Kerry tells us that recently there were as many as 65 players turning up to have a knock. The center's existing shed with its 8 courts could scarcely accommodate 32 players, which naturally meant long wait times and a limit to the number of keen table tennis fans who could get involved. The shed's diminutive dimensions also placed a limit on the ambitions of the association. As Secretary Kerry Bell explains, the leadership has long had visions to host grander state and national tournaments, which would not be possible without extra court space.
A shed is always about what takes place within. It's about what it makes possible. So, we were excited to build a new edition to Albury Wodonga Table Tennis Association's shed. In total, the additional space added 6 new courts. Vastly improving the available courts for the club's members and also making a host of new possibilities for hosting titles. Improving the club's status and doing wonders for the state of table tennis in general.
The result has been a resounding success for the club, which is already hosting its first state title event. The extra courts have made it possible to welcome a host of new players to this healthy and active pastime. Including school pupils, who now have access to the facility. The association can now accommodate more disability players and other groups with special needs. All-in-all it's been a watershed project that's allowed the centre to grow and attract more players and promote this exciting global sport.
Every so often we get a chance to be part of a game changing project that transforms the status and fortune of a business, family or indeed, a game. As Shed Boss, we're proud to play a role in this wonderful story of customer success. In this video we invite you to meet Kerry Bell and see the wonderful work and effort they are putting in to provide a truly world class facility for the residents of Albury Wodonga and athletes around Australia.