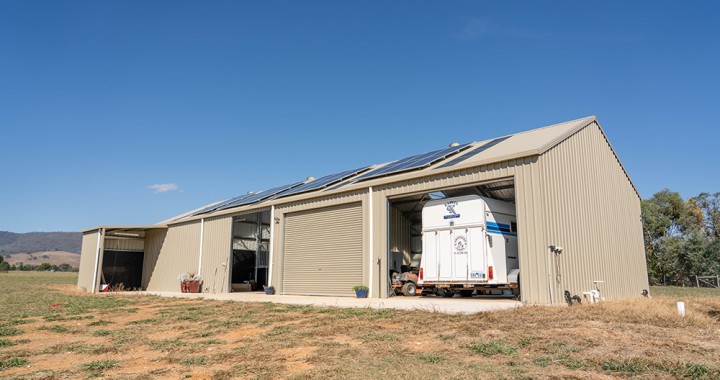 Whether it's watching sensational dressage ponies or thunderous thoroughbreds, one can't help but feel awestruck by the sight of a performance horse. That's why those who are drawn to work in this world, are not just here for a paycheck. Talk to someone like Kate Evans for just a few moments and you will appreciate the passion, dedication and love they have for their magnificent beasts. Kate is a horse breeder and trainer, who has bred New Forest ponies for more than 30 years. She knows what goes into it better than anyone and that's what Shed Boss learned when we helped Kate build a Shed around the needs of the horse. She approached Shed Boss to design a new space that would be Equestrian-optimised.
And she had some very specific requirements in mind.
Starting with solar panelling on the roof which meant the structure needed to face due north. Beyond this, She wanted a building that could house everything in one place. From stabling to tack room to washdown bays to feed rooms, Kate wanted everything designed and located to allow ease of movement for vehicles and animals around the shed. In addition, she wanted the feed room to have a roller door that could be opened fully to allow vehicles to enter. This would let Kate and her team drive feed right into the feed room and offload. Making this job a lot less of a handful.
The height of the shed's exterior roller doors was also very important. That's because these doors needed to to allow the enormous horse float to enter the shed – making it possible to load and offload horses under cover. Furthermore, the shed also needed roller doors on opposite sides to allow the horse float to be driven in and out in one direction. Eliminating the tedious task of backing the huge trailer in and out of the shed after a long show day.
The Shed Boss team worked with Kate to incorporate these design requirements into the final plans. Working with Evans to check and recheck dimensions of doorways and roller doors. The team also made a few suggestions to improve the livability within the shed. These included installing skylights and whirlybirds in the roof to help keep the interior cool and make the environment more comfortable for her valuable animals.
Working with horses is no ordinary job, which is why a shed built around equestrian needs is a little out of the ordinary. Working with the team at Shed Boss, Kate now has a space custom-made for the task. In this video, she tells us about the home she's built specially for her horses.