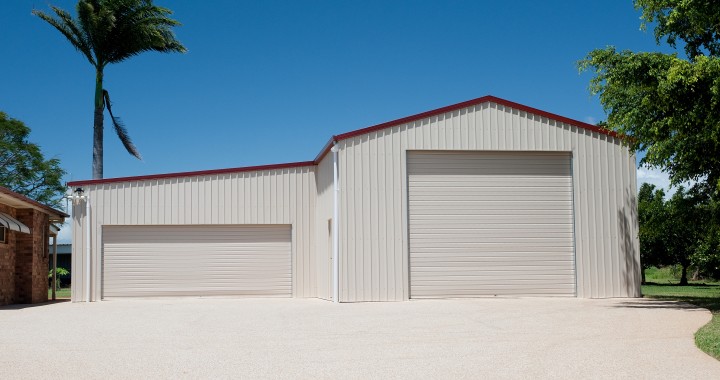 We all know property is booming, but the neighbourhood is getting pretty crowded out there. Just one look at real estate sites like Domain or Realestate.com.au and you'll see thousands of outstanding places all clamouring for buyers. In this environment, anything that makes your listing stand out will attract more interest and more buyers at auction.
It's no secret a well-designed and well-built shed adds heaps of value to any property. But did you know that there are a few other tricks you can think about that will make more buyers stop when they get to your listing. Here's a few things to think about that give your property extra pop.
PAD OUT YOUR PARKING
Buyers scan listings and comparing notes looking for features including the number of bedrooms, bathrooms, and parking spaces. That's where a shed, garage or carport can move your property to the top of the list. The important thing to consider here is that 6m x 3m is considered to be the minimum size requirement for a car parking space. That's good to know and here's why.
Let's say you're thinking of building a garage to comfortably house two vehicles with space to spare. You might be tempted to build something that's roughly 6m long and 8m wide. Technically, that's a large 2 car garage with ample space to spare. However, if you went just a little wider – say 9 metres wide – bingo, you just jumped to the top of the list with 3 car parking!
GIVE THEM HIGH HOPES 
You might be thinking of building a garage to fit your low riding sports car, but at the same time, roof clearance and the dimensions of the access door could be a dealbreaker for certain buyers. Know your area! Do you live near water? Buyers might come with a boat. What about things like caravans? Can a recreational vehicle fit under the roof or will you be closing the door on that sale?
INCREASE UNIQUENESS
In a cluttered market, anything that helps your property stand out will add value. These days, eco-friendliness and sustainability get a lot of attention and features like solar power and storage tanks for rainwater could be a big draw card for potential buyers. Our sheds are compatible with solar paneling and we'll also advise you on the best roof pitch to achieve maximum solar panel efficiency. The property ad almost writes itself!
A strong property market gives you the confidence to invest in additions that will add value when it's time to sell. If you build with the buyer in mind, you can truly liven up your listing for a successful sale. Luckily Shed Boss has been at it for years and we do a lot of this thinking for you. We take care of everything from creating your dream design to planning and obtaining the right council approvals so there are no surprises when it goes on the market.
Now that's smart selling!