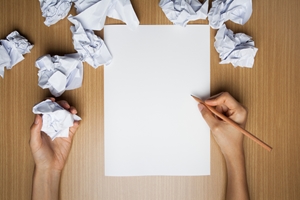 It's no secret that there are a near-endless range of sheds for you to choose from when looking for a new build from Shed Boss. From sheds large enough to house your tractor, to ones that can be used as a residential garage (or perhaps a wine cellar or craft beer brewery), Shed Boss is sure to have the perfect product for you. Because we can build a shed that is custom-designed for your needs, we can tailor it precisely – and if you're a writer, either budding or professional, we can put together the perfect retreat for you.
Sheds have long been a desirable spot for writers to tap out their words.
Sheds have long been a desirable spot for writers to tap out their words. Perhaps it's because it gives them a chance to close the door on the modern, hectic world and leave them alone only with their thoughts. World-famous authors such as Roald Dahl, George Bernard Shaw and Virginia Woolf all used a writing shed to complete their masterpieces – and now you can have one too! Read on to find out how Shed Boss can make your writing retreat dream a reality.
Whatever you want
All writers need space to write, and what that space is is entirely up to you. Some scribblers like quiet solitude with only the bare necessities to hand – a desk, chair and a table (and perhaps a pencil with a rubber on top). Others may like to have shelves filled with reference books, a window onto the world outside, and perhaps a phone line or television set to accompany them once the inspiration begins to run dry. It doesn't matter how you choose to fill out your writing shed – however you want it, Shed Boss will be able to design one aligned precisely with your preferences. You could even go for one with separate rooms, partitions or floors – whichever will work best to get the creative juices flowing!
Giving you a helping hand
In this day and age, all sorts of permits and paperwork need to be signed off before you can even think about putting up another building – even on your own property. Don't, though, ever let this put you off from building your writing shed, as the guys and girls at Shed Boss will look after this tedious side of the construction process for you. This expert team are vastly experienced in these matters, and we will work with you to ensure that any paperwork involving planning approvals and safety regulations is meticulously filled out, leaving you to the fun stuff – thinking of what to include in your writing shed.
Get connected
Way back when, a writing shed would likely be constructed from a hotch-potch collection of timbers, set deep in a dark forest, like a scene directly from a fairytale. In that shed would be nothing but a wonky table, perhaps a pile of wood with an axe resting up against it, and a chair. Maybe it's this sense of solitude that gives a writing shed its romantic connotations, but in this day and age, such a building can come fully equipped with all the mod-cons of the modern world. The internet, satellite television and any other luxury that you can think of can all be installed in your shed and, what's more, Shed Boss can help you out in this regard, too.
We'll get in touch with electricians, plumbers, telephone companies and the like to ensure that your writing shed is fully rigged up with any modern amenities you'll need. Be sure to get in touch with the expert team at Shed Boss to get your writing shed off the ground – who knows, the next Great Australian Novel could be scribed in there!