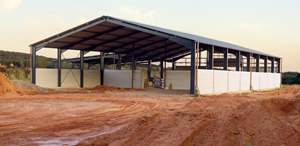 When planning out the steps to construct your custom designed shed, you need to know that it's going to be safe. A steel structure may seem sturdy when you first build it, but little things over time, such as wind and corrosion, can wear it down until worst comes to worst and something fails.
So how can Shed Boss give you peace of mind when you're asking for a quote?
Shed Boss and ShedSafe™
We don't just build safe sheds, we build ShedSafe™ sheds.
ShedSafe™ is an accreditation program managed by the Australian Steel Institute (ASI), the leading body for of steel in our country. After the destruction caused by Cyclone Larry in 2006, there were calls for the ASI to create some kind of system that ensured sheds were being designed to the standards of the Building Code of Australia (BCA). As a result, the organisation launched the Steel Shed Design Guide for Portal Frames Sheds and Garages two years later.
In order to show that shed-building companies meet the important safety requirements of the BCA, and are following the ASI's guide, ShedSafe™ was created.
What does ShedSafe mean for my project?
When you design your own shed with us, you will be safe in the knowledge that Shed Boss is ShedSafe™. All of our products and designs have undergone rigorous testing and auditing by independent panel of experts in order to make sure they are fully compliant. Not only that, but the manufacturers we use, such as BlueScope Steel, are also tested under a similarly strict system.
In particular, this ensures your individual building will be able to stand up to the wind of your local region. We observe a variety of factors to measure what the wind rating of your shed should be, and build the structure to match – if not surpass – these figures.
So when you're looking at investing in a new shed, don't just settle for safe – settle for ShedSafe™.