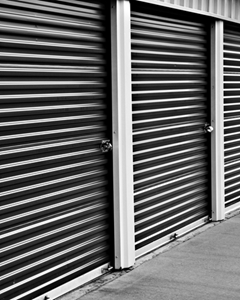 As you go through the various stages of designing your own shed, one of the major decisions you will need to make is whether or not you want a roller door. Obviously the intended use of your building will define whether or not you need one, but if you intend on storing any vehicles or large pieces of equipment, a secure, strong door could be considered essential.
Here is a quick guide to the different options available with your local Shed Boss.
Shed Boss roller doors
Whether you opt for a custom designed commercial shed, barn or just a modest garage for your car, automatic roller doors can make entering an exiting far more convenient.
Our standard-sized roller doors are perfect if you have a vehicle to store, such as a four-wheel drive or tractor. They are 2.75 metres wide, which equates to around 9 feet, and a similar height.
However, we are open to customisation as to the size of these doors. In fact, the maximum we can offer is up to 5 metres both high and wide – perfect for those larger farm vehicles that you want to store safely and securely out of Australia's weather.
As an added bonus, our roller doors come with a remote control system, which allows instant access at just the press of a button. We can even supply up to two hand sets, so you and your partner don't have to fight!
Lastly, we know security is an issue for shed lovers across the country, so we take it very seriously. As such, all of our doors have a reinforced bottom rail to help stop intruders from getting in. Live in a windy area? Ask about our Wind Lock system, which is specifically designed to be more resistant against windy conditions.
To find out more about our customisation options, jump on the Shed Boss app or talk to your local franchise.