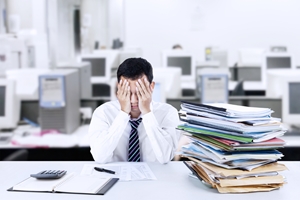 Being discontented with employment is one of the most poisonous ways people live. If you're feeling negative about the place you're spending the majority of your waking hours, the doesn't bode well for physical, mental or spiritual health – for either you or your loved ones.
There are a wide range of reasons why people might feel upset with their current job situation. In fact, a recent survey released by Morgan McKinley Australia highlighted some of the main reasons that people would consider leaving – or had left – their previous jobs. Unsurprisingly, a number of people had issues with money, with 15.7 per cent of respondents stating they were motivated to leave due to salary dissatisfaction.
However, one of the most interesting points was that more than 60 per cent of people said that a lack of career progression chances was their main driving force for wanting to up and leave their current employment. Highlighting the motivation of people across the nation, this presents an interesting look at the current labour force within Australia – people looking to make something for themselves and progress based on merit.
If you're feeling this way in your current job, now could be the time to consider a change. Have you ever wanted to be your own boss, responsible for ensuring a business runs smoothly and effectively? Now could be the perfect time to begin investigating your opportunities as a Shed Boss franchisee and begin your career as the provider of high quality custom designed sheds, workshops, patios and more.
Right from the get-go, you're provided with everything needed to make the best of the situation, including access to a range of highly-skilled, well-respected builders, refined products and an established brand. With the room to breathe and grow at your leisure, this could be a great opportunity for self-motivated starters to burst into business ownership and take control of their lives.