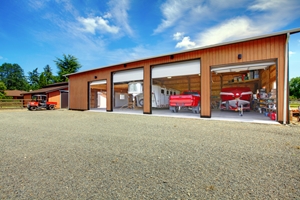 Depending on the size of the project you want built, as well as whether or not you choose to utilise our complete project service, your custom designed shed, garage, barn or workshop could take a few months to complete.
Though only around six to eight weeks of this is actual construction, a potentially large portion of the remainder is taken up by your local council.
The council approval process
After you have your site plan, structural details and any other elements of paperwork needed for council approval collated and submitted, the waiting game that follows can leave some people a little anxious.
In our experience, the average council approval process can be between four and six weeks. However, each local district has its own set of rules, and some may differ greatly from others in terms of time.
For example, according to the City of Sydney council, there are a few categories your custom built garage might fall under. Chances are, if you are just building a garage, or even a carport, you won't need approval at all, as some of those are exempt developments. Alternatively, you may fall under the category of 'complying development', which means the approval process is quite simple, and will likely last around 10 working days.
The District Council of Elliston in South Australia, however, states that submissions that are "complying within the Council's Development Plan, or of a minor nature" will likely be returned to you within two to four weeks.
Over in Western Australia, the City of South Perth says planning approval applications with them will take around 21 working days – if they don't require neighbour consultation. However, if this is required, it could be as long as 35 working days.
All in all, the best way to get an answer is to talk to your local Shed Boss team, as they will know from experience the specifics for your local council.