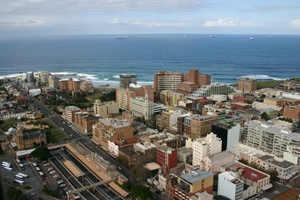 At Shed Boss, we take the stress out of building a custom designed shed. That doesn't just mean handling the actual construction either – we will also deal with council approvals and all of the paperwork you come up against.
A lot of the time, our franchises will work within one or two local government areas. But what about when you have five, six, seven or more different councils to do paperwork for on a regular basis? That's the situation for Shed Boss Hunter, managed by Brett McLean. He spoke to us about the ins and outs of working all throughout the Hunter Valley.
A shed for all seasons – and councils
"We cover the whole Hunter Valley – Lake Macquarie, Port Stephens, Newcastle, Maitland Council. It could be anywhere from half a million to a million people that we can service throughout the area," Brett says.
"We deal with six or seven different local councils, each with their own processes. It certainly provides its own challenges."
So since taking over the franchise in November 2014, Brett and his team have familiarised themselves with all of the different types of approvals and work to be done, and take it on quickly and efficiently. It's no mean feat, but he says that hard work throughout the planning stages pays off every time in the form of domestic, commercial and industrial sheds that they take pride in.
"We're pretty critical of our quality. We take ownership of everything we do and are proud of everything we have done."
Taking all challenges
One of the benefits of working with Shed Boss is that our custom designed garages and sheds can be made to suit exactly what you need. For Shed Boss Hunter, this has meant building granny flats (with strict residential regulations), awkward awnings and even sheds without a traditional fourth wall, that back onto fencing instead.
"A lot of the time, we'll take on jobs that others shy away from – ones that are more difficult," Brett says.
"The bigger the challenge, the more exciting it is."
"A lot of the time, we'll take on jobs that others shy away from – ones that are more difficult"
Shed Boss Hunter's willingness to go the extra mile for customers doesn't stop at building irregular designs or dealing with all of the paperwork either – after all, you can't forget the people you're building for.
"Customer service is something we're always striving to go further than most people on. They're making a big investment, so it's up to us to make the process as painless and streamlined as possible."
This applies to their community work as well, having helped out local rotary clubs, sponsoring events to get new equipment for schools, and even building an awning for a local farmer.
When your business deals with so many variables, it's crucial that all the right research is done. The team at Shed Boss Hunter know their work inside-out, and understand exactly where they can do that little bit extra, both for the customer and themselves.
With the potential for even more expansion in the next few years, who knows how far their reach will go?