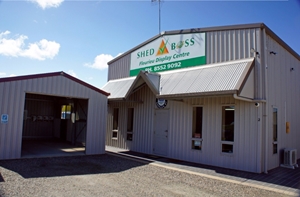 Meet Jim Kearns. He is qualified as a licenced building supervisor and project manager, and is passionate about his role at Shed Boss Fleurieu, where he handles your building project from start to finish.
Dealing with Jim makes the entire process a piece of cake – but that's just the beginning of the sweet journey. The keys to your brand new custom designed shed will be handed over along with a bottle of local Fleurieu wine at the end of the project. With swift construction, you'll be thinking back to the initial quoting stages with Jim, and marvelling at how time has flown by.
Read on to be introduced to Jim, as well as finding out some helpful details about our custom design process and complete project service.
Introducing Jim
Having worked at Shed Boss Fleurieu for nearly a decade, Jim first met the Schubert family at an industry event just over nine years ago. The Schubert's run the Shed Boss Fleurieu franchise as a family business, and Jim has been a valuable member of the team here.
Drawing on his wealth of experience as a production manager in the furniture industry, Jim brings a managerial skillset honed by working in large companies to his current role.
His background in this corporate sector equips him to work with large groups of people and effectively manage both the details and bigger picture of a project.
"I obtained a very broad range of experience in that on a daily basis I was working with people from all walks of life," says Jim.
"The management of a large team of staff in a manufacturing production environment with very tight schedules, deadlines and KPIs on a daily basis made the transition to the management of Shed Boss projects which can take between three to six months reasonably straight forward."
Customers of Shed Boss Fleurieu can rely on Jim's expertise and have some peace of mind in knowing that they are in good hands.
Moreover, his qualifications can appease businesses looking to construct a commercial shed because the work will adhere to the Building Code and operate in accordance with current legislation.
Health and safety considerations are also taken into account, aided by Jim's knowledge having gone through the proper qualifications.
Help at every end of the spectrum
Jim is able to offer assistance to people at different stages of the designing and planning pathway.
"My role as project manager differs from project to project. Some clients come into the office with plans and know exactly what they need and what can be achieved, on the other hand some need assistance with the design of the building and its location on the property," added Jim.
No matter what end of the spectrum you're at, you can expect some quality advice to help guide the next steps. This is particularly helpful for people who may not be aware of any restrictions regarding the local council's development plans or the legal building code.
However, Jim emphasised that "as experienced and qualified builders we can accommodate all of our clients' needs to get the project to completion."
There's a lot involved to get such a build completed smoothly, such as getting the block surveyed, site preparation, collaborating with plumbers, electricians, concrete layers and other construction crew. There might even be internal works afterwards, and so a project can typically be very time consuming if it were to be managed without the complete service offering.
"Instead of the client having to be present on site to meet with the various trades and schedule their work in and work around each other I take care of it all," notes Jim.
"It keeps me busy for sure," he adds with a smile.
Taking advantage of our complete service offering means you can sit back, relax and enjoy a hassle-free experience. You'll always be kept in the loop about progress, taking the stress out of the build.
Custom design vision
While the Shed Boss app is your first port of call for visualising your unique, custom design, Jim encourages you to stop by the local franchise and have a meeting in person.
"In our office I have lots of photo's of custom projects we have undertaken in the past which helps you not only get an idea of what your project will look like, but also gives you ideas you might not have otherwise considered," explained Jim.
"The face to face meeting is by far and away the best way to make sure our client gets the best from all aspects of the design process."
So, there you have it, Fleurieu locals! Come by your local Shed Boss franchise today and reap the benefits of liaising with Jim.