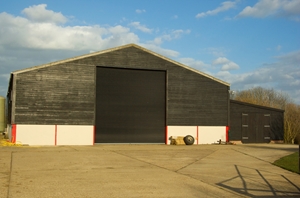 People all across the country are interested in building custom designed sheds, for a multitude of reasons. Whether it's to house your car and protect it from the weather or to use as a kids playroom, or perhaps to complement your rural property, there are numerous uses for a shed. In fact, the team at Shed Boss in Cairns recently even built a buy-back store for the local council up there! People can now buy second hand goods in a safe and sound structure built strong and right by our teams.
At the other end of the country in Tasmania, there are also many reasons you would want to build a shed. Let's take a look at these.
Affordability reigns supreme
In a recent BankWest First Time Buyer Deposit Report, it was noted that Tasmania is the most affordable state in the country to buy a home or unit. In fact, the Mersey-Lyell region of the West Coast of the state was the quickest place in the entire nation to save for a first home deposit!
With affordability at such a level, it provides a great opportunity to free up cash to add some great value to your property. Making additions to a home like an awning or garage can be excellent for increasing the value of your property. In fact, if it fits with your local building code, you could perhaps even construct a shed for living on your property – effectively adding another bedroom or granny flat!
Contacting Shed Boss to work out how to suitably add value to your home with a shed is always a great way to go – especially with the affordability that Tasmania can offer.
Favourable conditions
When you construct a shed or garage, you want a product that will stand up to winds and weather. When you decide to construct a building of this type in Hobart, you are moving into an area that contains minimal risk of damage from winds.
The Australian Bureau of Meteorology (BOM) records the average 9am wind speed for areas right across Australia, and Hobart's figures are unlikely to damage your construct. Ranging between 11.4 kilometres per hour in June 2015 and 15km/h in October, average winds are far from threatening levels.
What's more, Tasmania is not a state that is likely to experience tropical cyclones. In fact, BOM historical records do not even have a category for the island state. While some other areas may carry some concern about wind conditions (which Shed Boss is happy to meet), building a custom designed construction in Hobart is unlikely to face such adversity.
The ShedSafe™ accreditation that all branches of the Shed Boss family means our products comply with the Building Code of Australia. We recognise the importance of bearing wind loads when you have a shed, and we engage in detailed studies of conditions and measurements involved in your barn, to ensure it stands up to winds – no matter the strength. You can never be too safe!
Supporting agriculture
As the Tasmanian Farmers and Graziers Association noted in a recent release celebrating World Soil Day, the ground in Tasmania is very fertile, and forms a crucial part of the positivity in the local agricultural industry. Whether it is housing machinery or even stock, building a customised structure with Shed Boss can help your farming business flourish.
"In many areas of the state, farmers say you could plant nails and grow crowbars," said TFGA chief executive Jan Davis.
With many options and reasons to build a shed in the state, maybe it's time to consider your options. See what you can create in the Shed Boss App then come and speak to us!