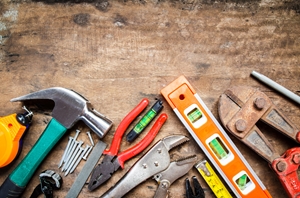 Welcome back to our handy guide on the extensive range of Shed Boss extras!
In our last post, we told you all about mezzanine floors, fire rated walls, insulation, vermin flashing and skylights, as well as mentioned a bunch of interesting stats and facts on how these can help your residential or commercial sheds.
Now it's time to launch into the extra extravaganza part 2, and just like last time, you can find these features on our easy-to-use Shed Boss app during your planning process.
Whirlybirds
Also called turbine vents or roof ventilators, whirlybirds are semi-mechanical vents that get installed to your structure's roof to help remove heat from the ceiling cavity.
A whirlybird with a diameter of 35 cm and a wind speed of 25 km per hour can move 38 cubic metres of air per minute.
Passive whirlybirds work by using fins that spin in the wind, creating a vacuum that sucks up warm air from the roof cavity. Active whirlybirds use a mechanically-driven motor to constantly spin, regardless of wind speeds.
Whirlybirds can be pretty useful when combined with other ceiling vents. They work efficiently to ventilate the space by expelling warm air and bringing in cool air to moderate the temperature inside sheds in hotter climates around Australia.
According to independent online authority Build, when whirlybirds with a 35 cm diameter are exposed to a wind speed of 25 kilometres per hour, they can move 38 cubic metres of air per minute.
When installed in smaller spaces, they can often be enough for ventilation, meaning you would not require any additional systems to be added.
Whirlybirds can be added to your custom designed shed, garage, workshop or barn to help ventilate the space.
Roller Remotes
Saunter into your garage in style with a roller remote. There's no better way to come back home after a long, enjoyable road trip and simply touch a button on your roller remote to roll on over into your warm, welcoming garage. Technology has made life so much easier, and this simple extra is a great example of how remote-controlled gadgets can streamline your lifestyle.
Shed Boss provides automatic roller doors, typically 2.75 metres wide and similarly high. But, in the spirit of true customisability, these can go as large as 5 metres in length, width and height.
Power
Similar to water, there's a strong need for electricity in pretty much most sheds, whether used by families, tenants, or even for products to be stored in warehouses. Electricity is needed for running machinery inside as well as for simple purposes such as lighting.
Quality lighting is important if you use your industrial shed as storage for large goods and fork lifts are being driven around, as having clear, easy-to-see and well-lit pathways for the drivers is a safety requirement.
Australian workplace health and safety laws are very precise, and dictate that managers and business owners should constantly be keeping track of safety hazard risks. Ensure you kit out your workshop or shed with power to help improve the workplace environment for your staff.
What's more, investing in power can save you money from workplace injury costs as well as help the economy. The Australian Work Health and Safety Strategy 2012-2022 noted workplace injuries cost the Australian economy $60.6 billion during the 2008-2009 financial year.
Water
If you plan to use your structure as a residential shed or a rental property, you will need to have water facilities enabled inside. Shed Boss can kit out your structure with pumps and water capabilities so bathrooms, showers, kitchen sinks and laundries are a possibility within these walls.
Commercial sheds used as office premises may also have need for water, especially to provide a kitchen area for staff, and working toilets. Surprised that commercial sheds are used as offices? Well, Shed Boss sheds can be built large enough to accommodate entire offices, and with a ShedSafe™ guarantee, business owners can rest assured their investments and staff are well looked after in a secure environment. Think of the money saved on rent and costs reduced by being able to custom design the precise specifications and sizing that best suit your business needs!
Industrial sheds may also need water, such as for workshops in the car servicing industry. Simply turn on the tap and connect the hose for easy use in your car servicing business.
Rain water tanks
The world is increasingly caring about the environment and going green. Sadly, the Department of Industry and Science's latest Energy White Paper reported that only 6 per cent of the total energy consumption over 2012-2013 came from renewable sources. Play your part in helping out by installing rain water tanks in your shed, collecting this natural resource and preserving water.
Contact the friendly team at your local Shed Boss to get a quote on these extras today!