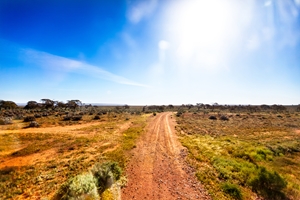 Many people who engage Shed Boss for an industrial shed are doing so because they want something built strong and built right. Our team of professionals work together to bring you an excellent product, something that will withstand the elements – and this goes for those products built in the rugged Australian outback as well.
With Bluescope Steel's trademarked Colorbond® product used in all Shed Boss constructions, you can rest easy knowing your shed or garage is going to be tough against the elements – here is why.
Weather warranty
From the date your shed is installed, Bluescope Steel offers 15 year warranty for corrosion from the elements – as long as it is more than a kilometre from a marine environment. This would apply to most, if not all sheds constructed in the outback, providing a long life for your product.
This applies to the Colorbond® steel used by Shed Boss, but terms and conditions do apply. Contact our friendly professionals for more information!
Back to bases
Colorbond® steel also comes with a Zincalume base, which ensures a healthy long life for your steel. When you build an industrial shed or garage in the outback, the elements can be tough on your buildings. By working with Shed Boss and our products, you can get a leg up on mother nature and build something that can stand the test of time.
To find out more about these products, you can contact Shed Boss. Or to see what your custom designed shed might look like with this steel frame, try out the ShedMaker tool on our site. You can enter the dimensions, floor plan, colour, and more to receive a 3D depiction of your great shed plans at the touch of a button!