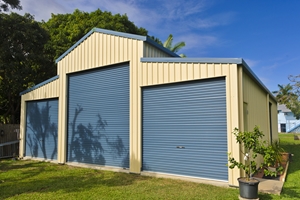 Ask anyone in Australia who is staring at their brand new custom designed shed and they'll probably tell you how great a purchasing decision it was. After all, who doesn't love having extra space to store all their tools, equipment and other various bits and bobs?
However, there are still two very important points you need to consider before getting that quote. This shed will likely last a long time, so you need to make sure that every aspect of the building process – down to the letter – is ideal for your own personal situation.
So without further ado, here are our top two points to consider before getting your quote:
What do you need it for?
Sheds, workshops, garages and other such buildings are great additions to your property. Whether you're storing machinery or constructing a new living space, the uses you could get are only as limited as your imagination.
So the question you need to be asking yourself is: "What do I actually want this product for?" This simple question forms the base for all your further decision making, and is something you can always come back to for answers during the planning phase. Figuring out your exact needs will let you know which type of building is for you, as well as the dimensions it will be, the materials you'll construct it out of and what council requirements you will need to meet.
Speaking of which…
Do I need permission?
Some construction projects require council permission to build, and others are classified as an 'exempt development', and thus don't. There are a fair few rules and regulations you need to be aware of to figure out which your project will fall under.
For example, in NSW, a carport is exempt if it does not exceed the gutter line of your house, has at least two sides open and meets a variety of other specifications. On the other hand, if you want to build a new garage, but you have to create a new driveway or gutter crossing to reach it, you will need separate permission under the Roads Act 1993.
This is where Shed Boss really stands out. After you design your own project using the Shed Boss app, we take the reins and manage the entire process on your behalf. That means not just construction, but all the necessary permissions and council fees as well. How simple is that?