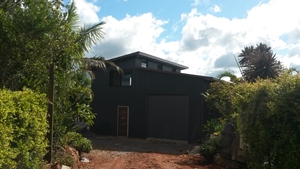 Ah, the Sunshine Coast. This region of Australia has not been given its name without good reason – temperatures here are a warming 25 degrees Celsius on average, and the beaches glisten gold in the sunlight. But there's another ray of sunshine here, and that is the local Shed Boss Sunshine Coast.
The team here has nearly 50 years collective experience in the industry, with Melissa Patterson managing the operation. Prior to working here, Melissa had 17 years experience working in concrete masonry sales within the wider construction industry. Her husband is a brick layer by trade, and together as a husband and wife team they invested in the local Shed Boss franchise five years ago.
We reached out to Melissa for an interview about the team here and the interesting projects they have worked on, which include two-storey custom-designed residential sheds as well as a unique glass-blowing studio and business for a local artist.
Could you tell us about the team at Shed Boss Sunshine Coast?
In addition to my husband and I, we have Michelle here who works in sales and admin. She can pretty much run the company – she knows everything there is to know.
After his work as a brick layer, my husband went on to build high rises – and now custom-designed sheds. Between the three of us, we have 47 years experience in the various aspects of construction and design.
What Shed Boss products are really popular in your area?
For us, it's domestic and residential sheds, carports and barns – those are the main three. Spacious Stockman barns are also popular, because in the Sunshine Coast we are lucky enough to have a lot of rural residential land and hinterland. Many areas here, such as Montville and Landsborough, have plenty of land space to put barns on.
A lot people actually live in these barns, as our council allows these structures to be turned into Class 1 for residential living. We love kiting these homes out with a range of our features, such as glass sliding doors and skylights.
These residential sheds can be decked out to the nines with such features, with easy access to the garage with roller doors. Interesting architectural features such as pitching our skillion roofs at different angles help make the house feel more like an elegant home, with modern COLORBOND® steel colours finishing the smart look.
Why do you think carports are also popular?
In our suburban areas, the land sizing is getting smaller and so the houses are also smaller. Therefore, people tend to turn their garages into another room and so, rather than house their cars out on the street or in the driveway, carports have been an ideal solution.
How long does council approval take in your area?
If a project doesn't have relaxation, meaning it is just a straightforward shed that's staying within council requirements on prescribed property boundaries, set backs and so forth, approval from a private certifier should only take four or five days.
This frees up council and speeds things up immensely, as we send the site plans, engineered drawings and development details directly through private certification for these within-bounds projects. The certifiers do a thorough search through Unitywater to ensure there's no sewers, stormwater or inspection points on the property. They also conduct title searches to verify the ownership of the property and their legality to build on it.
When a client's project requirements break relaxation or extend past the set-back perimeters, it needs to go through council – but we take care of that process for our clients. We justify their project to the council with valid reasoning, and this approval can take around two weeks.
Can you describe your favourite Shed Boss project that you worked on?
Sure! It is a glass blowing studio for a local artist. She really put a lot of thought into the design and colours for this build, which is why the Shed Boss app can be so handy for clients in these early planning stages.
The way she used the COLORBOND® steel colours was so creative, we had never seen anything like it before. She had different trims and gutters in varying colours, nearly four or five different hues, while we're used to seeing two or three in a single structure. It worked really well, she knew what she was doing.
We built her this beautiful, two-storey shed with mezzanine floors and decks. There were many unique, customised touches such as timber doors and louvres. It's just lovely. She was up in the hinterland but had a shop in the main street, and it was costing her a fortune in rent for her store.
She decided that she would build her own store up on her own property, and it's been great as now she has clients come to this new studio to look through it. People purchase her glass artworks right there, and she's so close to her home that it's easy as can be. It's a quick commute between work and home!