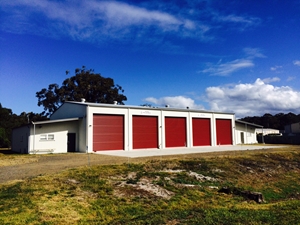 Stretching along the coastline of New South Wales, the Mid North Coast is a beautiful part of the country, facing the ocean and framed by golden, sandy beaches. There's one more beauty to explore here, though, and that's the workmanship of the team at Shed Boss Mid North Coast.
Here, we have an interview with Daniel Edwards and Mathew Humphries, who share their experiences of working at this franchise.
Meet the team
Daniel has worked in the metal industry since the age of 15, and has built over 20 years experience in that sector. He brings this expertise to Shed Boss Mid North Coast alongside Mathew, who is a plumber by trade but has also worked in the roofing industry for the past four years. Together, they have more than 30 years experience to bring to the table when they deliver secure, sturdy custom designed sheds.
Read on to find out more about the people who work here, and the interesting projects that they have worked on.
Please could you tell us a bit about the rest of team at Shed Boss Mid North Coast?
Daniel: There are seven people who work here. Jo works in the office and has a sales background. Dave, our head builder, has a labouring background and has plenty of experience building sheds. The rest of the team joined us after graduating from school, and they were trained from scratch to build sheds.
What Shed Boss products are really popular in your area?
Daniel: Sheds, patios and workshops are extremely popular in the Mid North Coast, especially agricultural or rural sheds.
Mathew: Small garages are also commonly asked for. Farmers in the region come to us for building the rural sheds, and families and homeowners turn to us for providing garages on their property – we'd say those are our main two customer bases.
Please can you describe your favourite Shed Boss project that you worked on…
Mathew: I helped build the local Rural Fire Service headquarters. It was a great project. We focused on fire safe sheds. We built offices on one end, and catered to the other needs of the Rural Fire Service on the other end, so it was quite a good project. For the offices, we completely fitted them out. They had windows and internal features to make the space feel comfortable.
We set up all the electrical work, so they could function like proper offices with technology. We also did the gyprock work, plastering the walls inside, and painted the offices, too. Everything was done, ready to go. We delivered the entire project in two months.
Daniel: That's one of the really good things about our team, is that we can offer the whole range of services to our customers. Carpentry, gyprocking, painting, electrical, plumbing – we can also provide these services in addition to building a shed. We feel that this makes life easier, giving people a one stop shop for all their needs.
How long does council approval take in your area?
Daniel: We aim to sort out the Comply and Development applications quickly, and if we can have that turned around and once it gets the green light, approval can be finalised within two weeks. But if the project needs a Development Application or Approval (DA), you're looking at up to six weeks. So it's between two to six weeks depending on your situation.
We try and recommend to everyone to opt for the Comply and Development process, which is straightforward and you have a set criteria. The DA can also be fairly straightforward, depending on where you're located. Sometimes it can get difficult if you're located in a flood zone or fire areas, but it's not unachievable. The council is reasonably lenient.
In your opinion, how does the Shed Boss app help?
Daniel: I suppose the younger generation uses it a lot more. That brings in that generation of customers that wouldn't normally have stopped into see us, or make that phone call to talk about their plans for a project. We also appreciate that a lot of people are busy and don't always have the time to do these sorts of things, and for them the Shed Boss app is very useful. It makes the process easier, and they can use it anytime, anywhere.
Mathew: The app has been a big help for our customers who want a residential build, such as a garage or carport added. Young, first home buyers have used it, and we get their plans sent through to us once they finish the app process. It's a user-friendly experience.
So there you have it, residents of Mid North Coast! Be sure to get in touch with the team here for a quote on your new dream custom designed shed, workshop, patio or garage!