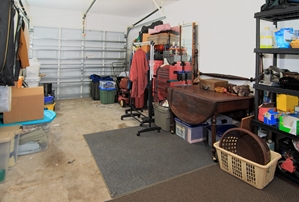 The word 'shed' means so much more than it used to. Way back when, it'd conjure up images of a run-down, leaky wooden shack out in the woods, but today, a shed can be anything from a personal workshop, right through to a cavernous barn or even an aircraft hanger.
Whatever you use your custom-designed shed for, it's important that you keep it as organised and tidy as possible. This is so that you find whatever it that your looking for as quickly as possible, as well minimising any potential hazards. Additionally, an organised shed will maximise the space you have available. Have a read of our indispensable guide to getting your shed in order.
Add a shelf for good storage health
If you find the space in your shed limited, or want to create more room on the floor, adding shelves is an excellent idea. After all, the walls of your shed can do so much more than simply hold up the roof and keep out the elements. Installing shelves offers you more handy space to get your shed organised.
The walls of your shed can do so much more than simply hold up the roof and keep out the elements.
If you're storing potentially dangerous items in your shed, such as chemicals, shears or other sharp implements, perhaps install your shelves a little higher than usual. This will keep them out of reach of children, without making their storage an inconvenience.
Boxing clever
Clear, plastic boxes, which you should be able to buy in bulk from any self-respecting hardware store, are an absolute godsend when it comes to organising your shed. That's because using them can make things so much easier to find – after all, they are clear, so a quick glance is all you'll need.
Additionally, plastic boxes are usually very easily to stack neatly, so buy as many as you see fit to keep all of your bits and bobs organised. Vertical space can often be forgotten, but with plastic boxes, you can take full advantage of it. If you like, you could even stick labels onto the containers, arranging them for added efficiency.
Pegboard perfection
We've already spoken about the importance of maximising your floor space, and one item that will complement your shelving strategy is the humble pegboard. Widely available from just about any hardware store, pegboards come in the form of large sheets dotted with holes, into which hooks and pegs can be attached. From these hooks can be hung anything you like, from your trusty hammer, right through to drills and hoses.
You can even divide your pegboard into dedicated sections – power tools on the right, and an array of screwdrivers on the left. It's completely up to you, and miniature shelves can even be screwed in for yet more storage space. Just ensure that you put up your pegboard in a place that's easy to get to, as you'll want access to be as quick and simple as possible.
The Chemical Brothers
No matter what you are using your shed for, it's likely that you'll be keeping some form of chemicals in there. These could be anything as common as cleaning products or weed killer, right through to more serious stuff. Even everyday chemicals, such as petrol or paint, are pretty toxic, not to mention flammable, so it's hugely important that you store these items correctly.
You'll want to make sure that these chemicals are not at risk of contaminating your shed, or have the chance to catch aflame. It's a good idea to place them in a storage container, which ensures that they are all in one place. Try to keep your chemicals in their original packaging, out of the way of sunlight, children and animals.
One other thing to remember – fertiliser and fuel should not be kept close to one another, and the area in which they are stored should be well ventilated – so be sure to include windows when crafting your custom-designed shed with the Shed Boss app!