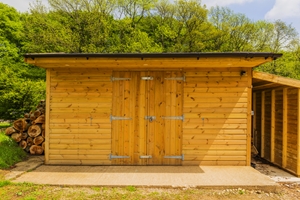 While there are many working and playing purposes for constructing a shed, the ways in which a Shed Boss construct can benefit you doesn't end there. Our custom designed sheds and garages can not only function excellently as an office or barn space, but can also be used for living purposes.
This absolutely depends on your local council and state government laws on the issue, but many people are in a situation where living in a shed is a possibility. In fact, in our recent Q&A with Gabrielle Hickerton of Shed Boss Innisfail, she noted that many people in her region are currently doing this!
The Northern Territory Department of Lands, Planning and the Environment notes that while sheds can have features of homes, that does not automatically make them the same – a bathroom does not a house make! A shed is a class 10 structure, while a livable home is a class 1a structure. To make a shed into a livable structure under these laws, there are many changes you might have to make to a regular shed.
This includes features like insulation, glazing, window sizes – even fireproofing! Many of these features are aspects you can introduce and modify on your shed plan when you work with the Shed Boss App, an excellent resource for anyone with even a passing interest in shed construction of any type
So how could Shed Boss help you get on board with making a shed that is habitable and a great place to live? Here's a few things we can help with.
We do the paperwork
Before your shed construction begins, there are many pieces of paperwork that may have to be organised. One great thing about working with Shed Boss is that we can do much of this for you! When you engage our experienced teams, you are getting service that extends well beyond simply the construction of a barn or garage. We approach councils for permits, and organise this paperwork and certification with minimum fuss for you.
For example, the Cooma-Monaro Council in New South Wales says that while a shed may not be used for residential purposes, it may be possible to upgrade one for this use. It does, however, require a development application.
A building certifier is also a useful part of this process. Speak to your local Shed Boss about whether making a livable shed is feasible for your area, and then we can get working on the permits and approvals – then the real business starts!
We can add value
The Cooma-Monaro Council also notes that many people try to use sheds as a dwelling while another home is constructed, or perhaps for a weekender-style type of living. While these purposes are practical, there is another great effect of upgrading or building a custom designed shed or barn for living purposes: adding value. Ms Hickerton noted in our Q&A that many people have been ordering sheds to use residentially, and while it wasn't clear why people did this, one thing that was clear was that they add value to a property.
Not everyone will be able to live in a shed construction. Every council and state has different regulations for this kind of building, and it takes careful planning. However, if it is something that interests you, there are several steps you can take. For one, you should try using the Shed Boss App to see what kind of construction you can create with our range of customisable options.
Once you have done this, you should speak to your local Shed Boss to work out how to make this dream a living, breathing reality.