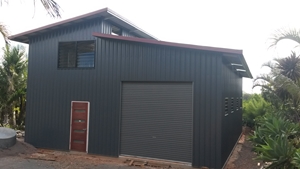 Long gone are the days when these separate dwellings were just to keep elderly family members out of your hair. Granny flats are making a comeback in Australian backyards due to increasing flexibility of design and affordability. They're bigger, stronger and flashier – perfect for property owners wanting to expand and increase the value of their home.
More than just house accessory, granny flats are part of the growing dual occupancy trend that's taking Australia by storm. Granny flats usually consist of one or two bedrooms, and are situated at the back of a property or, less often, attached to the side of the main house.
A September 15 article published on Realestate.com.au has quoted "granny flats" as the fourth most searched property term in New South Wales from September 2014 to August 2015, and the third highest in the Northern Territory, according to its keyword search database. A quick image search will tell you that granny flats can look modern and inviting as opposed to a drab garden shed.
So jump on the expansion bandwagon today! Here's why granny flats are a desirable addition to the family home.
Take the 'granny' out of granny flats – put your kids in there!
A common misconception is that granny flats are only suitable for elderly people, in-laws or parents. However, these structures are also suitable for those who enjoy living at home but wish to stretch their legs and maintain an independent lifestyle that's only a short skip and a hop away from family – namely young Australians leaving the family nest for the first time.
Parents fed up with their mature kids still residing at home can teach them a lesson or two about independence by building a separate living arrangement on their property. Let's be honest, moving out of home is scary. However, moving into a stylish and independent residential shed would definitely ease the transition for millennials.
Expanding your property to include a granny flat provides extra space, and by renting it out, can also bring further income to homeowners. In Australia's tough housing economy, this will create additional living opportunities in crowded regions – beneficial for the property owners, the flat's occupants and for Australia's housing shortage situation. This shortage is estimated to dissipate only around 2018, according to BIS Shrapnel, an economic and property forecaster.
Research from CoreLogic and Commonwealth Bank has found that there are almost 700 Australian suburbs where it is cheaper to buy a property than to rent one. By creating more properties available for rent, this will reduce these suburbs' rent rates and open up the market for either low-income families, home migrators or those unwilling to commit to buying their own property. These could all apply to young Australians having just started a family and wanting their own place, or leaving their parental home for the first time.
The 2015 Future Leaders Index, a study conducted by BDO in partnership with the Co-op, found that 93 per cent of young Australians have money saved, but 87 per cent believe they will "never own their own home outright". The study also revealed unaffordable housing as one of the top two concerns in the sample of 18 – 29 year old Australians surveyed.
Small, stylish and strong
While granny flats are typically small, many things can be done with the limited space within a granny flat. Enthusiastic designers have the option to add custom designs and accessories to improve their residential space. Mezzanine floors can split a room into sections and provide extra levels of work, living and play space.
The orientation of your granny flat can also help to cut down on expenses such as power. Installing a window or a glass sliding door in the northern facing wall will allow for maximum amount of natural sunlight. Skylights and our six-star energy rated insulation are also a savvy way to keep the bills to a minimum.
At Shed Boss, we offer customisable and cost-effective steel sheds that are adaptable for residential purposes. Made out of top-quality galvanised steel built to withstand Australian weather and engineered with modern COLORBOND® steel colours, our sheds are built strong, and built right.
The products used to build residential sheds are all sourced from locally owned suppliers. This ensures that the top-quality materials meet Australian laws and regulations, and are reliable for long-term peace of mind, all the while looking stylish in Australia's finest, sleekest steel.
All the buildings also come with the ShedSafe guarantee, an accreditation programme that ensures you'll get the best shed to suit your needs.
Come see us today to talk grannies
If you are considering expanding, a major must in your design-a-granny-flat kit is the Shed Boss app.You can input the specifications of desirable features into this app, choose your desired steel colours, and even see a 3D depiction of your dream dwelling before any commitments need to be made.
Shed Boss offers a Complete Project Service that provides you with the hassle-free option of constructing your own granny flat, while leaving it to us to find the best local builders at an affordable price. Hiring us to handle every step of the way, from design to development, ensures that you not only save money, but also time.
Contact us today for a free online quote!