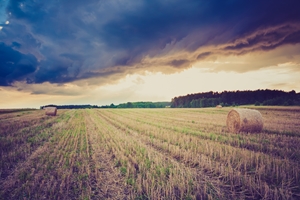 While working with Shed Boss gives you a wide range of overall custom designed shed options for the main frame of your construction, we can make it so much more than a regular four walls and roof. With extras available to help with ventilation, heating, letting light in and much more, Shed Boss products go well beyond the basic expectations of what a shed can be. Here is a run-through of just a few of the extras that you can have with your custom design.
Whirlybirds
Also known as turbine vents, these additions to a shed are a great way to keep your construction cool and ventilated. These round, finned vents are attached to the roof of a building and create a vacuum, sucking hot air out from the top of the construction. They are often wind-powered, and in stronger gusts can become even more powerful for replenishing the fresh air in your shed.
We all know how hot the Australian summer can be, and the conditions this can create inside a steel shed. By adding a whirlybird to your next Shed Boss design, you could be doing yourself a huge favour when the hot conditions come around.
Skylights
If you are constructing a four-walled shed or barn on your property, adding some features to let sunlight in can be a great way to create a great indoor environment. Depending on the size, it can let a huge amount of natural sunlight into a shed, which is essential if you will be using the building for human or animal housing or work.
The Skylight Industry Association (SIA) also notes that skylights provide what they call "cool light", which means you get the brightness of the sun, but without the heat of many kinds of artificial lighting – perfect for creating a cool summer atmosphere.
They can also be a sustainable option for your construction, with the SIA Code of Practice also noting that skylights replacing artificial lighting can cut down on energy bills. This doesn't just save money, but the organisation says it can promote mental wellbeing and quality of life in a shed.
Heat loss and heat gain can be an issue with skylights, however, so it is important to make sure the pane is positioned correctly to bring the greatest benefit to you.
With so many benefits to be found, a skylight should absolutely be considered for your next custom shed or garage construction.
Rainwater tanks
With the cost of living rising for many people, any savings that can be made on day-to-day costs will always be a welcome relief. That's why adding rainwater tanks to your custom designed shed could be a great idea, especially for rural properties that may have to source their own water.
By adding tanks to capture rainwater around your shed, you can cut down on water bills, increase your supply of water for domestic use, and create a backup supply for when dry conditions strike.
Whether for cleaning, irrigation or another use, adding this extra to your shed is a great idea for anyone considering a custom construction in a regional area.
There are many more extras that can be added to your shed, and a more expansive list of your options is available by contacting us here at Shed Boss, or by using our ShedMaker app. Within this brand new tool you can choose which type of shed you want, configure the dimensions and walls, even pick what colour you want a shed to be!
From there, you can indicate to us which extras you would like to install with your shed and we can make it happen for you. Check out ShedMaker for more information!