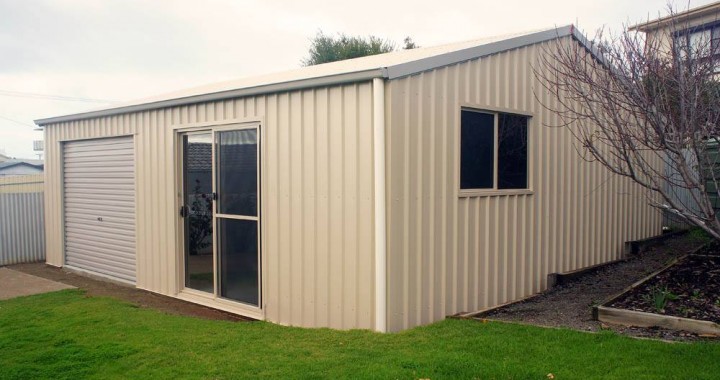 Land is precious. It doesn't take an expert to notice that the value of property keeps increasing. As the population grows and as cities expand, prices creep ever-higher and smart owners are doing more to add to the resale potential of their properties. Some even go as far as building extra floors, or dividing houses into multiple units to maximise the potential for return.
That's great, if you're up for the challenge. However, you don't need to take on the cost and risk of drastic alterations to benefit. We asked Tim Wirth – a veteran estate agent – for his perspective on the potential for garages and sheds to add value to a property.
Tim is the principle of LJ Hooker Seaforth – an award-winning agency serving Sydney's Northern Beaches for over 40 years. In his time, Tim has closed sales on plenty of properties so he knows a thing or two about what buyers are looking for.
"Assuming it works with the design aesthetic of the house, you can't really lose by adding extra space," says Tim. "Especially in properties closer to the city, which are smaller. To compensate for the lack of room, people are looking for opportunities to add more liveable space."
Tim believes that if done well, sheds can offer a cost effective way to either create more space outside the house, or free up room within it. Far from simple storage spots, he's seen sheds put to good use to create outdoor entertaining areas, great rumpus rooms for the kids and man-caves that are the envy of blokes everywhere. All of this has the potential to add value and bring the right kind of buyer to your door.
"Double garages are highly sought-after," he adds. "Not just for vehicles – a lot of household clutter can be banished to the garage which improves the overall feel of the home and makes it more comfortable to live in. It also eliminates the cost to hire offsite storage if you can't fit all your belongings."
Position and placement are important things to consider in order to retain the positive features of the house.
Says Tim. "Be strategic and position your shed to maximise the available space in your yard and ensure ease of access to the property. That's the kind of thing buyers will be looking for. Plan your shed to work with the design aesthetic of your home and use hedges and plants to beautify the exterior."
Quality is naturally a deciding factor. While a flimsy screw-together shed is unlikely to wow buyers, a quality construction – built to code with robust steel frame, insulation and certified against bad weather – will not go unnoticed.
"It goes without saying that using a reputable builder and securing long-term warranties on work is all important. It gives confidence to buyers, which factors into their calculations."
As available space close to cities decreases, the property market continues to perform as a secure investment for home owners. According to one veteran estate agent, an intelligently-placed shed that works with the house is a cost-effective and achievable way for many people to add value to property.
As a company that has done it for people across Australia, if you'd like to explore the idea, talk to the ShedBoss team.