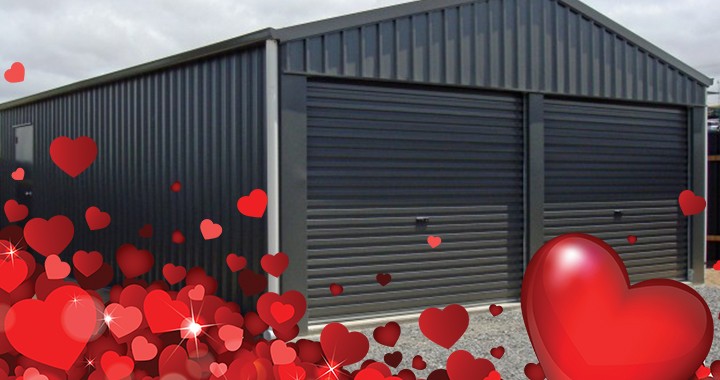 Hollywood has a flair for the romantic. We've probably all seen a scene in which the hopeful hero sweeps the leading lady off her feet with a surprise romantic dinner date. It's a moment made for the movies and it's especially cool if the space is somewhere very unexpected like a street or a store room. There's the rooftop date scene in Kate & Leopold, which sees a drab apartment roof transformed into a breathtaking setting with a few plants and some strategic use of fairy lights. (Although it may help if you actually happen to be Hugh Jackman). Possibly the most unexpectedly romantic kiss ever took place in an alleyway with a table for two set upon an upturned tomato crate. It was of course, Lady and the Tramp.
Transforming an ordinary space into an extraordinary experience is a gesture that has a profound impact. With Valentine's Day around the corner, we thought it would be fun to think up a few ideas to help you dress up even the most hardworking shed for a romantic rendezvous.
Clear an area and set the stage
It's not necessary to completely transform your shed. No one expects a workshop to suddenly become a 5-star restaurant overnight and quite frankly that would defeat the purpose of the exercise anyway. Clear a reasonable area and set a scene that shows you've spent time and thought arranging things. Just use some sheets to cover the worst bits, dim the lights and use strategic lighting to create a different mood. You'll be amazed how different things can look with just a few simple tactics.
Choose a theme
A theme will give you material and inspiration to play with. Go for an old classic like Paris and you can use vintage Parisian music from the 40s. Or perhaps choose a classic like Great Gatsby. Although not technically a love story, Bas Lurman's recent film definitely has a definite romantic style and gives you ample ideas. Plus, most ladies love the fashion from the roaring 20s. Whatever you choose, just pick a few elements that set the tone. No need to go overboard.
Serve up a real experience
To make this feel like a real date, you're going to want to make it unique and give it a gourmet feel. Italian food has always had a romantic aura about it. Seafood is very elegant and lends a sophisticated air to any meal. You'll probably need some help if you don't want to be running back and forth to the kitchen while your date waits patiently. If you have a teenager, rope them in as a waiter. Alternatively, you can probably hire a local waiter for the night for a reasonable sum. If you want to pull out all the stops you could consider private catering. There are companies such as 'At Your Table' in Sydney, that provide a personal chef for any occasion. They'll take care of everything and deliver a perfect gourmet experience, but expect to pay a bit for the privilege.
Let the moment carry you away
Once everything is in order, remember to relax. Make the most of the moment and take the time to open your heart and give her your attention. Because, hey, that's all she really wants anyway.
A shed is probably the last place you'd think of doing something radically romantic, but maybe it's not such a crazy idea after all. If you've got your heart set on your own shed for 2 (or more), why not call ShedBoss for a reservation.