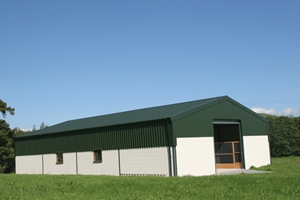 As we all know, Australia's climate can vary wildly. The Snowy Mountains provide a breathtaking backdrop for those who want the colder climes, while all across the nation there are regions that are perfect for enjoying the heat of summer. The state of Queensland is ideal for this, with beautiful, wide expanses that provide a fantastic backdrop to enjoy the sun. And wherever people go, there is going to be a need for sheds. Having recently spoken with Gabrielle of Shed Boss Innisfail, let's take a closer look at this region and the ways in which people can use sheds.
Catching the climate
Situated in the north-east of the Sunshine State, Innisfail is right by the mouth of the Johnstone River and has fantastic access to the rich Queensland coastline. This can mean a lot of beachfront real estate in the area, providing people with a prime opportunity for a custom designed shed or garage.
Housing boats or other aquatic vehicles is a must for the leisurely summer, and Innisfail provides a wealth of opportunities for this. The temperatures around the area regularly reach 30 degrees and beyond, so appropriate protection of machinery and vehicles in the heat is important. Adding whirlybirds or other ventilation systems, as you can do in the Shed Boss App, is a great idea for keeping your Innisfail shed or barn cool during the hot months. Even in the winter, temperatures are unlikely to fall below 10 degrees, with the coldest mean temperature in a month over he last 30 years being 16 degrees.
Protecting from the winds
One unique feature of Innisfail's location is that it can be in close proximity to some high winds, particularly cyclones. Anyone there will tell you of Cyclones Yasi and Larry that have passed through in recent years. Despite causing damage, many of the town's older buildings still withstood the winds, proving the character and strength of architecture in the region.
The ShedSafe™ accreditation that comes with all Shed Boss products means they are constructed to the Building Code of Australia. While it may not hold up to cyclones in the region, it is a top quality protection against winds that everyone building on their land should be looking at.
Sweet as sugar
One of the prominent drivers of the local economy in the Innisfail area is sugar cane. It has been an important part of the area since the 1800s, and according to the website of the nearby South Johnstone Mill, there was 1.13 million tonnes of cane crushed during the 2012-2013 season. With this level of production, many in the industry will need to house equipment and perhaps crops. As we have a wide range of customisable barn options at our disposal, Shed Boss is well-equipped to construct anything to help out those in this industry.
From mezzanines to electricity, there are numerous additions and customisations that can make our shed products truly suitable for whatever you need.
As a small community in Queensland, Innisfail is the type of place where most people know each other. It's an area where trust and community is important, and Shed Boss Innisfail are well placed as a great part of this. By training people locally and maintaining a tight-knit team, including people who have been part of the group for over ten years, they have become a fundamental part of Innisfail. For your protective structure, living shed or other type of building to add value and convenience to your property, be sure to contact them.