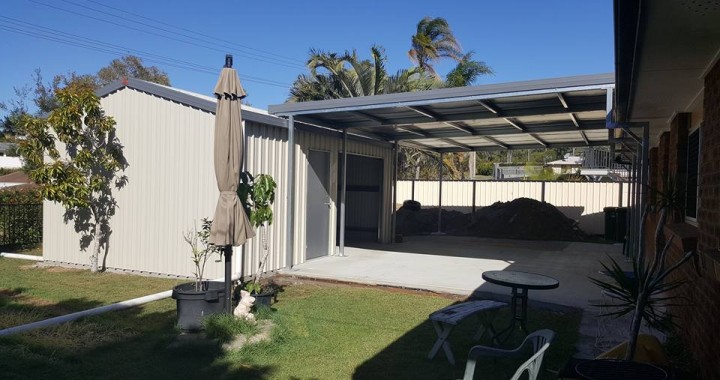 Sometimes you'll find our sheds in unexpected places, but just as often they're right there in the neighbour's yard next door. The ones close to home are no less fascinating to us and today we continue our exploration into some of the lives behind our sheds, with the story of Bev and Bill Miskin. Two self-described "typical Queenslanders" with a love of family and the good old Aussie life.
Married for 42 years, the couple has 3 daughters and a total of 8 grandchildren. Like many couples their age, the time they enjoy most is spent with the family. Bill is a mining man who loves gardening. At 68, he's worked for Rio Tinto for over 40 years with no sign of slowing down. Bev jokes that the company boss asked him to stay on so he could say he's shaken the hand of someone who worked for the same company for 50 years.
They've lived in their 3 bedroom house for 11 years now, but Bev has always wanted to put up an awning and a shed to give them a bit more room and make it more liveable.
"We needed something for the outside area," she says. "The grandkids are often here and there's no protection outside from the sun or when it rains. Including our sons-in-law there are 10 adults here when we're all together, so it gets a bit crowded inside. So, we thought righty-o, time to get a shed!"
They ended up fitting an outside awning that extends half the length of the house in addition to a 6m x 4m shed in the front yard. Bev laughs, "Most people wouldn't put a shed in the front yard, but that's what we did! We've still got a lot to do to beautify the place, but we're very happy with how it turned out."
Bill has been collecting tools for his retirement and has begun stocking the shed in preparation for the projects he has in mind once he hangs up the hardhat for good. Both he and their daughter enjoy working with woodworking instruments and they've got some ideas for hand-crafted outdoor furniture that will last a lot longer than the stuff you buy today.
Apart from giving them more storage space and helping to declutter their home, it's also a place to stow the rods, reels and gear for two of their fishing-mad grandsons who live out of town. Plus they are looking forward to lots of barbeques and parties again.
When asked why the Miskins chose Shedboss, Bev explained that they'd looked at a few local builders, but didn't get much of a response. Shedboss got in touch immediately with options, costs and everything else. She was also very impressed with the blokes working on site, who were polite and respectful. Remarking that she was thrilled that there was not even a word of bad language the entire time.
"Why did it take us 10 years to do it? Bill didn't want to spend the money!" Bev chuckles. "But he's not the one carrying the groceries inside in the rain! My daughter eventually had a chat to him and convinced him we needed to do it and you know what? It's made a huge difference!"