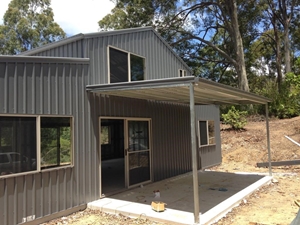 Reach for the sky with two storeys! If you're short on land space but need the storage, opting to add an extra level such as a mezzanine floor to your custom-designed shed can be the ideal solution. Here we take a look at a range of ways that welcoming some marvellous mezzanine mania into your life can benefit your shed's functionality.
1) Added storage space for workshops and warehouses
Businesses that require off-site storage for their boxed products are better off building one large warehouse with a mezzanine floor so all staff are housed in the same facility. This minimises costs of buying larger plots of land to build these warehouses, and also proves to be an investment rather than paying rent for the storage space to an external organisation.
Rather than have to contend with the logistical difficulties of super-high ceilings, making it harder for forklift drivers to reach for products stacked very high, a mezzanine floor keeps ceilings lower for more manageable and safe use of the warehouse or workshop space.
2) A separate floor for bedrooms in a residential shed
Many of our Shed Boss residential sheds can be equipped with electrical and plumbing facilities, in order to convert them into comfortable, elegant homes. Indeed, the sky is the limit when it comes to creative uses for a shed. Several of the projects built by Shed Boss franchises have converted sheds into liveable houses, and, in such instances, a mezzanine floor helps spatially plan the home's spaces into upstairs and downstairs zones.
On the mezzanine floor, the bedrooms can be laid out to keep the top floor as the homely, private space. Meanwhile, the downstairs region can cater to guests with a lounge, kitchen and dining area. Because all our products are customisable, the house can be as big or small as suits your needs. Don't worry about safety or sturdiness either, because all Shed Boss sheds – including residential sheds – come with the ShedSafe™ guarantee. Moreover, our engineering and joinery of heavy galvanised steel is industry leading and built to the supreme quality needed for a house.
3) Closer to skylights and sunshine
A recent initiative by Google, called Project Sunroof, uses the Google Earth technology to analyse how many hours of sunlight a rooftop receives annually. Using this data, Google is able to calculate how much money a homeowner can save by installing solar panels on their roof. Homes that are blessed with a lot of sunlight show up with yellow roofs on the map, while shadier homes are shown in purple hues.
At the moment, this software is only looking at certain parts of the United States of America – but Australia has its own equivalent. The Live Solar Potential Tool designed by the Australian Photovoltaic Institute (APVI) works out the potential for electricity generation by adding PV to different rooftops in the country.
By accessing this live map, you can see how much sunlight your plot of land receives and this can help you determine where on your roof you should place your skylight. This step can be done during the early stages of planning your structure on the Shed Boss app.
Now, once your skylight is built, a single-storey structure actually distances you from the sunlight more than being on a mezzanine floor would. Be closer to the bliss of sunshine by adding a mezzanine floor under a skylight!
Feel free to contact us for a quote on these design ideas anytime.