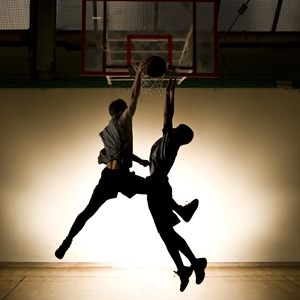 While sheds more often than not perform a great number of serious uses, from the high maintenance of a custom designed workshop to the handling of livestock, there's no reason that your construction can't be fun too. The sun is still shining bright in the evenings, and there are many great opportunities for family-friendly outdoor or indoor activities that can incorporate your shed. Check out some of these DIY projects, and then see if they could work for your shed!
Alley-oop!
As old as time itself, the DIY basketball hoop is something found on many properties. It can be placed atop a secure metal pole, or affixed to the house. Of course, then you run a few risks – stray basketball crashing into windows or getting stuck on the roof, and the subsequent guilty looks from the kids for days on end while they pretend the broken window doesn't exist.
But by affixing a basketball hoop to your custom designed shed, you might be able to avoid such damage and still create a great space for kids and adults alike to play. The Australian Competition and Consumer Commission (ACCC) has a few words of advice first, however!
On the Product Safety section of the ACCC website, it is recommended that you get a building professional to check that the areas where a backboard and basketball hoop will be attached are sound. Everything should be safely secured – you don't want anyone trying a slam dunk to end up flat on their back, and putting your weight onto a ring needs to be a safe activity.
Bikes for tykes – and more
If you're a cycling enthusiast, then you have no doubt experienced your fair share of damage and repairs to your faithful two-wheeler. There are many DIY repair shops in central cities, but if this is out of the way for you, why not consider a bike repair kit or shop in your own shed?
It may take some practice and learning from experts – for example, do you know how to fix a derailleur hanger? But once you are up and running and have the right tool kit, you can teach the kids to fix and make additions to their own bicycles. They'll have the coolest bicycle club around in no time – or maybe you will!
Riding bikes is a great way to get out and about, but keeping your bicycle in shape is a fundamental part of enjoying this to the fullest.
Chemical reactions
If you've got a budding scientist in the family, a DIY chemistry set in a shed could be just the space for them to experiment and have some fun learning about the basics of science. Of course, remember those warnings about managing any dangerous chemicals safely – this could be one that requires an adult supervisor.
But with a number of customisable options available that you can check out in the Shed Boss App, you can create a side space in your custom designed shed that's perfect for the young ones to experiment. Remember, chemistry legend Marie Curie conducted some of her groundbreaking work from a large shed – you could be setting a child off on a path to the next great medical breakthrough!
The possibilities are endless when you work with Shed Boss on a custom designed shed or garage. From the well organised rural office to helping the next Michael Jordan hone their skills on a backyard hoop, work and play can come together in the most wonderful way with these constructions. Speak to one of our teams to see what we can do for your property!