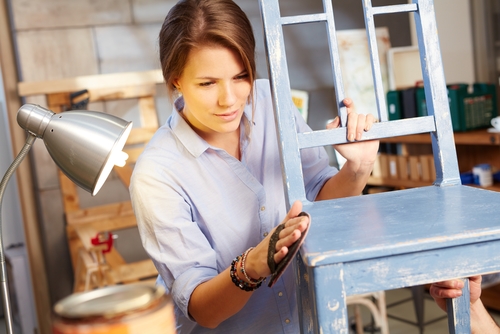 If Australia's favourite reno show has kept you glued to the telly for the last few weeks, you're not alone. We've also enjoyed watching the drama unfold as the couples try to outdo each other with paint, plaster and passion. We've also noticed quite a few ideas coming out of the show that would be perfect for anyone trying to create a unique and different 'she shed'.
A shed doesn't need to be a bare steel box. Whether you want a place for hobbies or a relaxing retreat to read a racy novel, with a little creativity you can turn it into something special. Here's two ideas from the show that you can use to turning an ordinary space into a spectacular 'she shed'.
FEATURE WALLS ARE WHERE IT'S AT.
With small spaces to work with, the contestants have had to get creative. One way they've done it is through the use of feature walls that add wow factor. With a little imagination, this is an easy thing to do. They can be simple – perhaps just a difference of colour or texture – or they can be spectacular and involve moldings, wallpaper, wood paneling or even metallic cladding depending on the effect you're going for.
On the show, Will and Karlie blew the judges away with an art-deco inspired geometric wooden feature wall for their master suite reveal. You could go to that extreme, but you could also opt for something more subtle. Create something that fits your personality and your vision.
There are tons of amazing grains, colours and textures in stores to choose from, but if you get creative you might not even need to pay for it. Some people have done amazing things with reclaimed wood. A few clever folks have turned old window frames into stunning feature walls. Or how about a driftwood effect? Turn a summer of walks on the beach into a treasure hunt looking for bits of bleached, sea-swept wood to fit together on your wall.
With a little planning and some simple DIY you can turn a wall into a conversation piece.
LIGHTING REVEALS WONDER.
The contestants on the block have shown that a small change in lighting can have a dramatic effect on the luxuriousness of a space. If there's anything you can take away from the show it's that you should never think of light as a utility that simply illuminates a room. Think of it more like a paintbrush you can use to create depth and dimension.
Will and Karlie demonstrated this to perfection in their guest bedroom. They combined lighting with paint texture to create an interesting eye-catching feature. Using a combination of glossy and matte black paint they created art-deco angular shapes on the back wall. With a few strategically placed light fixtures, the reflecting light bouncing off the glossy paint revealed the patterns creating a striking and elegant outcome.
You don't need to stick with standard light fittings found in the hardware store either. Get crafty and create your own out of wood, metal or even paper. A quick internet search will reveal tons of inspiring ideas and detailed how-to videos that will make it easy for those with even the slightest smidgeon of skill. Just be sure you get a qualified sparky to inspect and install them for safety reasons.
THE BEST SHE SHED ON THE BLOCK.
A shed is much more than a storage space. It can be a hugely satisfying way to express yourself and TV shows like The Block are a great source of inspiration. Has the show got you bubbling with ideas to create your own unique and beautiful she shed? Tell us what's in your head and Shedboss will help you turn your vision into a reality.