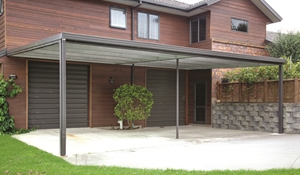 Though it may not initially seem that way, a good carport can be just as handy an addition to your home or business as a custom-designed shed. It could well be that the word 'carport' brings to mind a small, insignificant structure used to shelter vehicles, but the truth is, they can be so much more than that. Today, carports can be used to cover boats and larger vehicles, and they are often utilised to house entire fleets of work vehicles – read on to find out how to create the perfect one for your needs.
A carport of versatility
Carports have come a long way since their initial inception. Today, they can be used as a small shelter for your family car, or a full-scale roof to shield your commercial vehicles from the elements. Additionally, they can act as a covered recreation area, so if you need shelter from the hot Australian sun as you fire up the family barbecue, your carport should be your first port of call. They can be used as a pergola for entertaining, or to keep your boat or caravan under until you decide to take them out for a spin.
At Shed Boss, we're a big believer in one of our mottos – 'built strong, built right'.
Whatever you choose to do with your carport, you can be sure that it will markedly add to the value of your property and protect whatever is underneath it from the extremes of Australian weather. If you're keen to keep your vehicle(s) in tip-top condition, providing them shelter is essential. For example, the summer sun can quickly fade the paintwork of stationary vehicles, and keeping them shielded from the heavy rain and hailstones that can occur in the winter months will also prove beneficial – a well-made carport is the perfect solution.
A quick build
At Shed Boss, we're a big believer in one of our mottos – 'built strong, built right'. With this in mind, we take the time to ensure that all of our builds fall in line with these words. If you're looking for a shelter that can be put up with minimum fuss in the shortest time possible, without compromising on quality, a carport is perhaps your best option. This is because carports are typically a lot faster to build than garages. However, this doesn't mean that they are any less durable – it's simply because, by their very nature, they are easier to put up!
Design your own carport with the Shed Boss app
What your carport looks like is completely up to you. Using the Shed Boss app, you can design it completely to your liking, from size, shape and colour. Indeed, there are a broad variety of COLORBOND® Steel shades to choose from, and using the app is simplicity itself. You'll be able to easily match your new carport to the profile and theme of the building which it complements. Whether your looking for a skillion or gable roof, you'll be designing a carport that's unique to you, one that's sure to make a positive impact for years to come.
Built strong, to last long
Whichever product you purchase with Shed Boss, whether it's a large commercial warehouse or a simple awning, you can rest assured that they will be built to the highest of standards. That's because each and every one of our products are 'built strong and built right', and our carports are no exception. They're made to exacting Australian standards, using premium steel products and world-class workmanship.
To find out more about our carports, be sure to get in touch with the team at Shed Boss today.