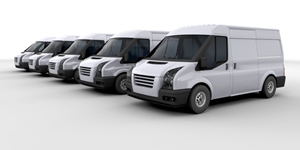 As the owner of a vehicle fleet service, you know the importance of being able to store all your cars and trucks as safely and securely as possible. If something were to happen to them, your business's livelihood could be at stake. Therefore, it's important to take your time when it comes to building a custom designed garage and ensure that the final product fulfils all your needs and more!
What are some of the things you need to consider as a vehicle fleet owner? The first thing you'll need to check is that the garage is large enough to hold all your vehicles. There's nothing worse than creating a space for your work, only to find out it isn't large enough – forcing you to make compromises on a space you only just recently completed.
Depending on how many vehicles you have and the range of different types, remember to leave enough room on either side to allow for easy access as well as space above the roof of the vehicle to avoid any damage that can be caused by low hanging ceilings or lights.
Furthermore, it could be worth considering multiple entrance ways for vehicles for your garage. This depends on how busy your business gets and whether there is potential for bottlenecks to occur on particularly busy days.
If you decide to have multiple doors, ensure your staff are well versed in operating them them in order to avoid collisions and other accidents from unintentionally occurring throughout the work day. When it comes to maintaining a professional image, the last thing you need is for your vehicles to have self-inflicted dings and scratches.
Get in touch with the team at Shed Boss to discuss your garage needs and begin working towards creating the best space for your vehicle fleet service today.