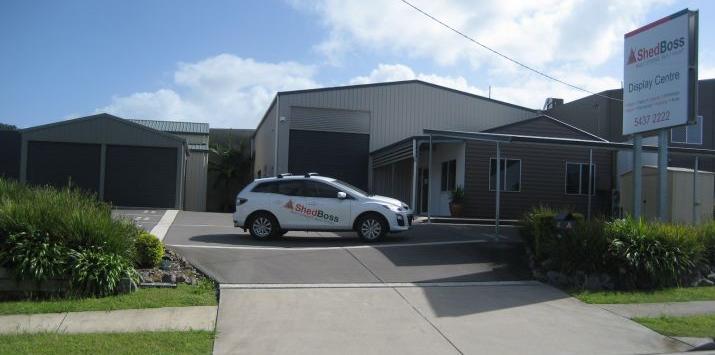 Open Maps Widget for Google Maps settings to configure the Google Maps API key. The map can't work without it. This is a Google's rule that all sites must follow.
CONTACT US
21 Bell Road Glass House Mountains QLD 4518
Phone: 07 5437 2222
Fax: 07 5491 6980
caloundra@shedboss.com.au
---
There is plenty to smile about along the sublime Sunshine Coast of Queensland. Temperatures here average a balmy 25 degrees, with the sun kissing cheeks and sand nestling between toes. One of the things worth smiling about in the area is the local Shed Boss Sunshine Coast franchise.
The team here has over 45 years collective experience, with backgrounds in concrete masonry, construction, bricklaying and sales. This expertise enables them to help you design your own residential shed, as well as commercial structures or workshops, with attention to detail.
Quality designing skills
People may think that one of the most colourful parts of the Sunshine Coast is, in fact, Rainbow Beach, with its trademark sands in a variety of different colours. However, once you see the craftsmanship and artistic beauty of the projects that the team here have built, you'd think Rainbow Beach will have a run for its money. Shed Boss Sunshine Coast has built residential sheds using heavy galvanised steel, creatively using different hues of our COLORBOND® steel on the roofing and carport to make the house look more like a home. This team has also built two storey designs, with a sturdy mezzanine floors, for local businesses to use as a studio and office combined. One of their standout structures is a glassblowing studio for a local artist.
Adding value to daily living
Shed Boss Sunshine Coast has plenty of experience constructing custom designed garages, carports and workshops. These are great for extra storage for surfboards and other outdoor gear. These days, many people are converting garages into extra rooms, so adding a stylish carport offers shelter for your car without compromising on space. In addition to residential projects, Shed Boss Sunshine Coast has also built barns for the agricultural industry here in the rural residential hinterland of the Sunshine Coast.
Warm customer service
No matter what idea you have for a project, you can rest assured that the vision you have for your structure will be warmly welcomed by the team here. From the early stages of seeing it on the Shed Boss app to the completion of your build, the team will be able to offer design advice that is in line with the local council regulations. Best of all, the turnaround time for gaining council approval for your build is only 4-5 days if it doesn't have relaxation. Even if your idea triggers relaxation boundaries, the team here will take your case to council and justify the reasons for your design. It's a partnership you can count on.
What our customers are saying

I can't say enough good things about the team at ShedBoss, Caloundra. From the outset, Michelle bent over backwards to help me through the process. Even prior to signing a contract, she was very knowledgeable, helpful and was prepared to spend at much time as I needed. I think I had 6 different designs on the go there at one stage – going through all the different options and features. But nothing was too much trouble for her. Although I engaged a number of vendors, I signed with ShedBoss, Caloundra, because they were the easiest to deal with and obviously valued genuine customer service. And construction and payment was a stress free experience. The regular communications from Michelle and Justin were very welcome, and things happened when they said they would. And thanks to Justin for being so patient with me and putting up with my stupid jokes. I'm absolutely stoked with my new shed, and I have no hesitation in recommending ShedBoss, Caloundra to any potential customer.
Brett Gould
Caloundra West, Qld.

When planning my latest project I obtained quotations from all the leading manufacturers on the sunshine coast. I soon narrowed the quotes down, and only two stood out as having the required skills to perform the job. Of these two Garage World/ShedBoss impressed me with the Morinda jointing system and cast in tie down brackets. Melissa's communication throughout the quoting process also impressed, so I went ahead and signed the contract.
During the build I found all tradesman helpful and willing to listen to achieve the outcome I was after. Bill did a great job on the concreting, nice neat job and left the site clean and tidy. Thanks to Justin and team for such a nicely finished shed, excellent attention to detail, I couldn't be happier with the result. It's built like a proper commercial structure, not a scaled up garden shed like others sell.
I have already recommended you to many people as the building has generated a lot of interest in my local area. Thanks again.
Karl Deulberg

After having built three seperate sheds with three seperate garage companies in the past, our experience using Garage World was refreshingly good. They communicated well with us at all stages of planning and construction. The barn was erected in good time and without any problems. We paid well for good service and we recieved it.
We hope to be using the company again in the future.
Sally & Alistair Heron

Organising and purchasing a shed is made easy with Shed Boss Sunshine Coast. Care and attention to detail rewards the purchaser with a neat tidy top quality product. I could not be more pleased with my new workshop garden.
Dennis Anderson

Oh, my new shed is so cute! I didn't think - being a woman - that I could be so excited and proud of my very own shed. Thanks to the staff at ShedBoss Sunshine Coast, the design and construction of my new shed went smoothly from start to finish. I am one very happy customer!
Melissa and Michelle in the office were extremely helpful and obliging while I took some time and several designs before deciding on materials, colours, size, inclusions, roller doors and window options. The girls were efficient and knowledgeable, even suggesting the correct shed roof slope required for solar panels to be installed at a later date. There is also a tank collecting rainwater from the roof, providing fresh drinking water for those hot summer days on the rural block where my house will be built soon. The shed has even become inspiration for designing some of the features of my new home regarding colours and materials.
I actually felt like 'one of the family' during this process, so friendly were our conversations. The girls are obviously dedicated to their work and proud of their company, taking pleasure in helping their customers to achieve their goals. Melissa and Michelle were very patient with me and very generous with their time, even staying back at work (more than once) to accommodate my busy schedule while moving house. Melissa ensured submissions and approvals were pushed through speedily and when there was a delay getting materials from a supplier, she told them it was 'just not good enough'. Through her tireless effort, the materials did arrive on time after all. Every detail was attended to with professionalism, honesty and customer service to be proud of.
Due to a time constraint resulting from the sale of my residence, I could hardly believe that Justin the builder worked through the entire weekend to make sure that my shed was ready in time. This resulted in a smooth transition for my furniture and belongings to be delivered straight to the completed shed for storage, on the right day. This kind of customer care and service is rare - over and above anyone's expectations.
Staff confidence and their obvious enthusiasm for my project, made the whole experience enjoyable and hassle free. The pricing is competitive, the contruction and materials of my shed are quality guaranteed and the customer service is faultless.
I cannot compliment the staff at Garage World (Shed Boss) Sunshine Coast more highly and have no hesitation in recommending them to anybody needing this kind of superior service and product.
Paula Cozette
Proudly ShedSafe™ accredited

Shed Boss Sunshine Coast is independently owned and operated under license by
CMFG Projects Pty Ltd, ABN: 97 676 138 322

Shed Boss are a group of dedicated people with a lot of experience. All the staff are willing to help you with your needs. They are versatile in their thinking, always putting the customer first.
By the end of the day a great result is achieved. My wife and I are extremely happy with our shed, it's exactly better than what we thought.
Shed Boss treated us as part of the family, once again I would like to thank all the staff for their outstanding contribution and being very helpful to us in building our new shed.
Shed Boss is a wonderful company and we would recommend them to anyone.
Phil & Di Mack.

Thank you for installing our new carport. We are very satisfied with the product and the ambience of the final structure is far better than we imagined.
We were extremely satisfied with the profesionalism of your company and were delighted that the project was delivered on time and on budget.
We would not hesitate to recommend your company to our friends and associates in the future.
Tony Bridges

Very pleased with the job. Would be happy to recommend ShedBoss.
John Balfe

Shed Bossprovided professional and friendly advice at all stages of the building off my shed. When we first discussed the design (which was not a standard one), Melissa was extremely helpful and offered sound advice regarding the size, layout, position of roller doors, doors and support getting council approvals.
During the construction, Steve and Justin were prompt, tidy and very competent in ensuring everything looked right and worked correctly. They were also mindful of neighbours and community.
All in all I am very pleased with the design, construction and end result of my shed.
Excellent job by all concerned.
Steven Ford

Now a days, it's very unusual to find a company where people have been working for fifteen plus years, and doing a great job. Both Bill and his gang, Justin and Eric did a fantastic job.
Needless to say I'm more than happy with the results!
Gary Neut

First impressions make a business. From our first visit to the office to the completion of our shed, we could not have asked for better service. Any queries were handled effeciently by Melissa or Michelle. The builders Justin and Eric were precise and proficient. The quality of materials and construction exceed our expectations.
It was a pleasure to deal with a professional outfit. Because our shed was a little out of the ordinary, other companies put it in the to hard basket.
We have no hesitation in recommending Garage World to anyone. Thanks again for a job well done.
Gavin Isambert

I appreciated:
1. Friendly service from Michelle, Melissa and Justin.
2. Complete engagement by ShedBoss from planning to construction.
3. Communication when there were hold ups due to council and other suppliers.
I would recommend ShedBoss to other potential customers.
Richard Barnett

What a wonderful team to work with. From the girls in the office, to Justin and his team, nothing was too much trouble. Thank you for your efforts.
Dee Greenhill

The ability for actually listening to client's needs, and understanding what they are saying – and getting it right – Shed Boss!
We have used 3 different shed/garage manufacturers on the Sunshine Coast, in the past 5 years – this is the only testimonial I have written!
Shed Boss's quality product, the actual strength, workmanship, communication wins hands down.
Staff are very helpful and go out of their way to assist when they can.
I would never use the "supermarket" type again.
We will definitely recommend Shed Boss to our friends.
I can even understand George (even if he can't speak English)!!!
John & Allison McMaster
Mooloolah Valley