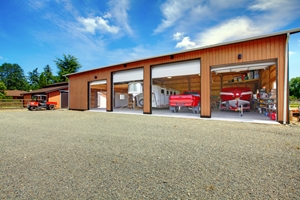 Sometimes, a custom designed shed only serves a designated purpose during certain seasons. Perhaps your shed is for equipment storage used mainly during the winter months, or maybe a workshop is just too hot to deal with in the summer.
Whatever the reason, as summer begins to wind down you may find yourself needing to use your shed again, but a little apprehensive about opening that roller door and peeking inside. Leaving a shed alone for a while can mean some buildup that needs to be cleared out before you can get down to your business, whatever it is. But never fear! Here are some easy tips for getting your shed maintenance up to scratch if you haven't paid a lot of attention to your shed in a while.
Scrub up your tools
If you store gardening equipment and the like within your shed, it's time to get those rakes and shovels into shape. Sand down any wooden handles until they're nice and smooth, ready for use without introducing your hand to pesky splinters.
Using motor oil on the blades and points of your gardening tools is also a great way to combat rust and ensure a longer life for these implements.
Check the storage
How are your shelves looking? If there has been wear and tear over the months that leaves them looking a bit weaker, you might need to take action. Sand these down and check bracing and joints, replacing them if necessary. Cutting up piping and attaching it to a wall can be a quick DIY fix for holding onto long-handled tools that will not fit on shelves.
For another nifty DIY touch, consider using jars in your shed for nails and screws. Labelling them clearly and securing them can make finding those small items much easier when they're needed for other projects.
Secure the roof
While the summer is generally a more docile time for weather, there can be summer storms. If your area has experienced them, it might be time to get up on a ladder and check the roof for any leaks. As Product Safety Australia points out, there are many things to look out for here for your own safety. Making sure the ground is level, treads are not worn and will still grip the ground, and that braces are working is all very important.
When you head up onto the roof, be careful not to over-extend your reach either. Keeping the roof of your shed or barn in shape is important, but so is protecting your own health.
Clear the floors
Dust and other sediment can build up quickly, especially if your shed is located in an area with frequent winds and loose dirt. Sometimes, taking a broom and hose to the floors of your shed is not enough – especially if you have a shed that is going to be used for housing livestock further down the line.
Taking a water blaster to the floors is a great way to give your shed floors a fresh start. It will lift out all of the grime that non-powered cleaning tools can't, and leave the floors looking bright and fresh – ready for anything.
The tasks you will need to prioritise all depend on what kind of shed you have, and how you want to use it. At Shed Boss we have a wide range of customisable options – check out just what you can do with one of our constructions by using the Shed Boss App.