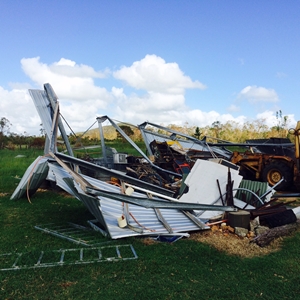 Many parts of the Queensland coast can be prone to tropical weather events, such as the incident the state experienced in February when Tropical Cyclone Marcia struck the region. Now that it has passed, the intensity and damage of this event can be discussed in detail, including the damage that has been caused to many people's homes and properties in the cyclone's path.
Pre-landfall
After drifting around to the east of the coast from February 15, Marcia intensified and moved towards land on February 18, resulting in warnings issued for many areas.
The Bureau of Meteorology (BOM) identified it as a category 1 tropical cyclone on the evening of February 18, and it continued its inland trajectory through the coming night. However, between 8 a.m. and 6 p.m. on February 19 it intensified aggressively, reaching category 4 by the end of this 10-hour period.
According to BOM data, category 4 means that a storm is a severe tropical cyclone, which can cause significant structural damage to buildings, as well as create the risk of roof loss. Flying debris is also a cause for concern, and generally winds reach speeds of up to 279km/h on flat areas. This can pose a severe risk to homes, garages, barns and other types of structure, particularly if in an exposed part of the state.
Landfall
According to a James Cook University and University of Florida preliminary damage assessment report, Marcia made landfall at 8 a.m. on February 20, having been upgraded further to a category 5 severe tropical cyclone. This includes the highest winds on the Beaufort Scale according to the BOM, but the tropical cyclone was noted to have begun weakening as soon as it reached the Queensland coast.
It approached land from northeast of Yeppoon, and was expected to weaken as it moved south, impacting towns as far down as Mundubbera and then transitioning to a tropical low, bringing rain to the Brisbane area. Rockhampton and Yeppoon were expected to bear the main brunt of the storm.
While this was the case, wind speeds were low than anticipated, peaking at approximately 156km/h for Yeppoon and 113km/h for Rockhampton. However, there was still significant damage sustained. Many buildings in the area underwent roller door failure, or were struck and seriously damaged by debris.
Exit
On February 21 at 2 a.m., Marcia transitioned into a post-tropical event, with mean wind speeds dropping down to 55km/h. High levels of rain, surf and tidal activity were still experienced across the coast of Queensland particularly on the Sunshine Coast, but there was no more damage recorded to the extent that Yeppoon and Rockhampton experienced.
Aftermath
The wind speeds experienced in more heavily populated areas suggest a category 3 tropical cyclone, and most of the damage sustained was to older buildings. The James Cook University report noted that buildings constructed since the mid-1980s were likely to be able to handle this level of wind. Additionally, many coastal areas have top-level wind resistant design, able to withstand speeds of up to 250km/h.
Great Keppel Island experienced severe structural damage to buildings, as well as extensive beach erosion. The eye of the storm passed close by Yeppoon, which resulted in a high spike in wind speeds as Marcia passed by. This has seen many older buildings lose their roofs, and the Yeppoon Hotel's roller doors have been badly damaged and blown outward by the winds.
The eye of the storm also passed near Rockhampton, which saw the peak in wind gusts at 113km/h and widespread concern for flooding, due to the rainfall which peaked at 30mm/h. Eyewitness photos posted on social media indicate that power lines were damaged, many buildings were torn apart, and trees were felled throughout the area.
Moving forward
The James Cook University report cannot provide certainty on whether changes need to be made to the structural design of buildings in the area, as new home design should be to a grade that can handle this level of wind. However, clearly many older buildings and industrial sheds have been severely damaged during this cyclone event.
A preliminary Twitter post from February 20 from the Queensland Police Service's media unit indicated that several hundred homes had been damaged between Yeppoon and Rockhampton. At this point, Shed Boss franchise owners have reported no damage to the products they have constructed, and anticipate a large level of reconstruction will be needed in the Rockhampton area.
Custom designed sheds and buildings made with effective structural engineering should continue to withstand these events due to the required design wind speed in place for region C cyclonic areas. This level of design may be taken into account during the repair and reconstruction of older buildings as required.
Destructive events like Tropical Cyclone Marcia are part and parcel of living in areas like the northern coast of Queensland, and it's important to always be prepared for such times. This means checking the engineering and structural soundness of all buildings on your property.