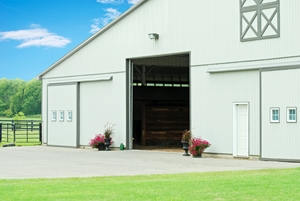 When people think of a barn, the 'old MacDonald had a farm' rhyme may spring to mind, with images of a lovely green farm dotted with livestock making their way to the shelter of the barn at night. Typically barns are used for keeping animals safe and dry, parking farm equipment such as tractors, shearing sheds or even for residential purposes such as storage for boats and valuable family sports gear.
But these are by no means the only ways to use these sturdy structures.
Like all Shed Boss products, the freedom to customise a barn to your needs and wishes is always on offer using our Shed Boss app. Our popular Stockman and Stockman Pop-Top Barns can be revamped to your liking. Think outside the barn by considering these creative alternative uses for the space.
Rental property
If you are a landlord of a rental property that is far away from your home, dashing out the door every time the tenant calls with an issue can turn into a hassle. Most states also have strict laws in place as well as a residential tenancy complaint service for disputes, but despite these helpful services it is never ideal to have legal issues with tenants. Sometimes things that can be easily resolved face-to-face or with a quick visit to the rental property can drag on if it is difficult to access or it takes a long time to drive there.
For those wishing to invest in rental property, have you ever looked out your back door? Is there enough space on your plot of land to build a barn? If so, you should seriously consider building a customised barn kitted out as a good-looking, comfortable flat to rent out. Best of all, if any problems arise, you simply have to walk for a minute or two to get to the property.
Here at Shed Boss, our barns are built with heavy galvanised steel and use the patented Morinda Glove Bracket System™ to construct barns, meaning the end result is incredibly strong and capable of withstanding harsh weather. It is truly a viable option for a house, as the living areas can be made homely by using our additional features such as insulation and skylights.
The walls can be equipped with sliding glass doors and windows to offer a residential, comfortable atmosphere for your tenants. Play with colour and make the rental property appealing with one of our 22 COLORBOND® steel shades, choosing contrasting colours for the roof or front garaport for tenants to park their car. COLORBOND® steel comes with a 15-year warranty, so even as tenants come and go, the appearance of your rental property will continue to attract residents and be a worthwhile investment.
Wedding venue
These days top wedding planners are turning to the rustic chic style of barn weddings, delighting many brides and grooms the world over. Bridal Guide wrote in a June article that "a barn is the ultimate venue for a romantic, rustic wedding".
For those of you who have built your customised barn on large farmlands with acres of lush, green fields, why not consider making some extra money from your investment by hiring out your barn as a wedding venue? You can even host your own other events in the space.
Just add some charming hay bales as seats and lights dangling in mason jars and you have sweet decor for a wedding service. Bridal Guide also recommends adding rosemary sprigs to the guest's napkins, butcher's twine around cupcake boxes or tying bows with burlap around the chairs to complete the rustic chic theme. Your barn and farmland can be a big attraction for such events.