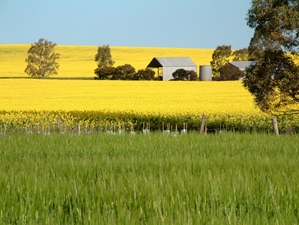 The Shed Boss family reaches right across Australia, with members of the franchise stretching as far south as Tasmania and all the way up to the northern areas of Queensland. We're creating custom designed sheds everywhere you look!
Recently, Jock Mepham joined the Shed Boss team, opening the very first branch of the company in Bunbury, Western Australia. We have already had a brief look at what the region is like, and recently we spoke to Jock about his work in Bunbury and how it fits into the wider community. Let's have a look at what he had to say!
How did you start with getting involved in Shed Boss?
I am a patio and shed builder, have been for 13 years. I had my own product when it comes to sheds, and they weren't price competitive, so I hunted around for a good product and came across Shed Boss. That's why we are now with them – we found a very good product. We've been with Shed Boss for probably about 10 months now.
Are there any particular types of shed or barn that people are coming to you with plans for?
No, each to their own – we are hitting the rural and domestic market mostly at the moment, and aren't hitting the commercial sheds yet. Everyone is different, everyone has different needs, from storage to putting the 1967 Monaro in [to the garage] and doing it up, to putting your harvester into storage. We can cater to those different needs.
Have you been using the Shed Boss App that was recently released? How are you finding it?
Not too bad actually! I don't have to use it but I have to do the quoting – the app looks to be very good.
Since the Shed Boss app has come out I have been going over to New South Wales for meetings a lot, but I intend on sitting down and playing with it and giving feedback. I need to sit down and create sheds of my own to send through to my own company as well.
Have you heard from many customers using it?
Yes, yes absolutely, we get quite a few using the Shed Boss app. It helps to form an idea of what they want, and when they use the app it goes onto our Shed Builder which lets us see their questionnaire responses and plans.
How long would it take you to construct someone's custom designed shed?
From start to finish, we try and work from about 10 to 12 weeks. That's everything from the building to the council processes – the works. That's us completing a finished product. I have nine employees across my team, plus subbies.
You are the first part of the Shed Boss family in Western Australia, correct?
Yes, that is correct. One of the challenges is distance, as it is a long flight for someone to come over here or for us to fly across, but that's us. I like what we're doing and I really do like the sheds, they are fantastic. We are still in the learning phase and have a high calibre product, and now will go on to sell it to the community – that's the big thing.
With members of the Shed Boss family opening up all over the place, you may be able to get your custom designed barn or garage visions realised no matter where you are. Contact us to find your nearest store and we'll get to work on your dreams!