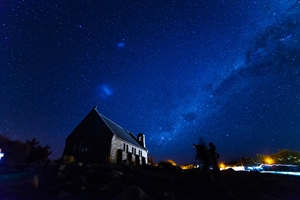 It's almost a rite of passage for kids. At some point they all start to notice the night sky, and begin to make inquiries about the stars, the moon and everything beyond that they've seen on television. Of course, curious critters that they are, being told about the sun and starts isn't always enough – they have to see for themselves. That's where creating a home observatory can truly satisfy a child's imagination.
But of course, this can be difficult to put together. But what if a custom designed shed was able to help provide the solution? Let's look at how to make space the place for your kids – all from the comfort of your own property.
Open up to the stars
Using the Shed Boss App, anyone can create their own custom designed workshop or garage to suit their needs. This means picking the exact dimensions, the type of roof you want to have, what kind of doors are going to be used, and so much more. One crucial element that could be handy for any budding cosmologist in the family is a skylight. If you have the telescope set up and want a sheltered spot with star views, then this could be ideal.
An elevated platform, or perhaps a mezzanine, could work excellently with a skylight and telescope to provide a sheltered spot from which your child can watch the stars.
It protects your work
Of course, telescope equipment isn't necessarily cheap, and you want to ensure your child is safe when they're exploring the skies – especially if winds pick up. Shed Boss constructions are made with our patented Morinda Glove Section Bracket System, which has pre-punched holes and galvanised screws to hold everything in place and make sure the custom designed shed holds fast and lasts for a long time.
It's safety you can count on, and our team of engineers can make sure everything is compliant with the appropriate safety standards, giving you peace of mind when you need it most.
Lockable doors and remote controls for roller doors offer another kind of protection as well – against any prying eyes or hands.
A creative playhouse for the kids
A custom designed shed doesn't just have to house a telescope, either. With changeable internal walls, the option of a mezzanine and electricity at hand if you need it, your construction can become a full-on space playhouse for the young ones. Star maps on the walls, desks and computers set up for any research they want to do – it could even become a sleepout for when friends stay.
That's right – when you work with Shed Boss, we can do the whole lot, including electricity – we handle the entire process from start to finish. We'll speak to the relevant local government bodies, making sure everything is up to code and within the required dimensions, as well as get approvals for electricity and water for your shed. That means your children's observatory can be up and running with minimal fuss from your end – and maximum satisfaction from your young ones.
Build it yourself, share with your friends
A backyard observatory isn't just something wonderful for your children to share – the way it was created can be something to show off to your friends and family as well! The Shed Boss App, available on the Apple and Android device stores, allows you to share your custom designed shed through email or social media – soon everyone on the block will be creating their own backyard observatory!