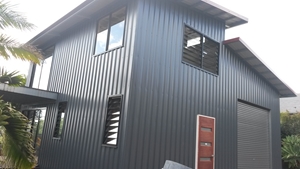 Yes, you read the title correctly! Our team of qualified and licenced builders are capable of building you a home of steel. Some parts of Australia, such as the Sunshine Coast and several others, legally allow our sturdy steel structures to be turned into Class 1 homes for residential living.
So, what are the perks of choosing a residential shed as your home, sweet home? Read on to find out!
Perks of a residential shed
– Safety and sturdiness
For starters, you have the flexibility to custom design the size, shape, architectural elements, number of bedrooms and storeys of your shed. In addition, our heavy galvanised steel can offer the security and strength for a long-lasting home.
Here at Shed Boss, we are proud to offer industry leading patented engineering methods, such as the Morinda™ Glove Section Bracket System. This method uses fully wraparound knee and apex joints in the steel brackets to offer utmost longevity and sturdiness. This is ideal for keeping your residential shed upright for many years to come, so several generations may grow up in this home!
Best of all, our building comes with the ShedSafe™ guarantee, which gives homeowners peace of mind knowing that they are living in a safe environment. This accreditation program involves getting the tick of approval from the Australian Steel Institute itself, ensuring that your home is capable of withstanding a range of weather conditions and will truly stand the test of time.
– Style
Don't think for a second that you can't make a statement with steel.
By choosing different angles for your skillion roof, you can craft an interesting silhouette for your home, as this example below of a Shed Boss residential shed. Different COLORBOND® steel colours can be used for the exterior walls and roofing, providing your home an attractive facade. Add character windows and doors, and you're all set!
– Affordability
According to research by BDO and Co-Op, 87 per cent of Australians aged between 18-29 fear that their generation will never own a home outright. Despite this worry, 72 per cent of them feel it's good to buy or build a house as soon as possible, and have saved money accordingly – the average savings per person were AU$8,000 or more.
Choosing to build a residential shed can prove to be a very cost-effective way of owning a home, especially considering the time saved in the construction and gaining council approval. Shed Boss can handle the entire council approval process, making the residential shed building process hassle free.
You could even treat the build as an investment opportunity. Owning a larger plot of land allows you the potential to have two residential sheds side-by-side, enabling you to put one up for rent. Imagine the joy of dealing with any landlord tasks by simply strolling over to your rental property within a few minutes!
Since all of our residential sheds can be kitted out with electrical, plumbing and waterworks, your rental property could include a small kitchenette and single bedroom/living space not much different to a granny flat. Use the money gained from rent towards your wider saving goals and financial planning.
– Sustainability potential
It's no secret that the world is on a green journey, hoping to adopt energy efficiency and environmentally friendly practises at every turn. Several Shed Boss extras for a residential shed can help you 'greenify' your home.
Adding a skylight helps with electricity bills, flooding your home with ample natural light to turn those switches off. With Australian weather, our sunshine is often enough to keep the lights off even into the evening hours, so it's a worthwhile addition to your residential shed. Along the same lines, floor-to-ceiling glass sliding doors are a good option for your residential shed. This design feature is also a hallmark of the current open plan flow many contemporary homes are using, so you can add a modern touch to your home by using such glass doors looking out towards your green backyard.
Another idea would be to add rain water tanks, ideal for being sustainable by collecting this natural resource. Similarly, we can also add whirlybirds (turbine vents or roof ventilators) to extract heat from the roof. This keeps your home cooler in summer, saving energy and also power bills from air conditioning.
It all starts with the Shed Boss app
If you're interested in the perks of a residential shed, head right on over to the Shed Boss app and get clicking away to see which design or plan works best for you and your family's needs. The app provides a variety of stylistic choices home designers can get excited about, including the ones discussed in this article and many more.