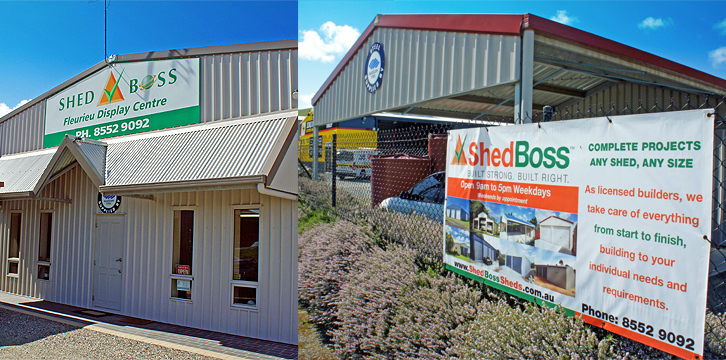 CONTACT US
2 Lincoln Park Drive, Victor Harbor SA 5211
Phone: 08 8552 9092
or 08 8323 7738
Fax: 08 8552 9095
sales@shedbosssheds.com.au


Find us on Facebook
www.shedbosssheds.com.au
---
Welcome to Shed Boss Fleurieu
The Fleurieu Peninsula is one of Australia's most beautiful landscapes, with emerald green hills, golden beaches and aqua blue waters flowing in the Murray River. Several iconic structures here frame the region, such as the Hindmarsh Bridge and the wharf nearby.
There are some other ways to bring elegant structures closer to your home in Fleurieu, though. Head over to your local Shed Boss Fleurieu franchise, which has been a part of the community here for the last 10 years, and see how you can add a quality, sturdy custom designed shed to your property.
Design your own residential shed or garage
The team at Shed Boss Fleurieu understand the importance of style and design. They have software that can help you plan a shed that not only complements the architecture of your adjacent home but also complies with council regulations.
Garages can also be built to a high standard, offering you a welcoming space. Imagine the joys of rolling home after a road trip, pressing your remote control to open the roller doors, parking the car and basking in the glow of a skylight before you step into your home!
No matter which way you embark on the planning process, whether it be meetings with the friendly team or by using the Shed Boss app, your vision will be respected. Adding form to function, you can choose from a wide range of COLORBOND® steel colours for your structure, so it is as shimmering and attractive as the peninsula you live in.
Commercial sheds in Fleurieu
Shed Boss Fleurieu also has expertise building office blocks and workshops, catering to for the commercial needs of local businesses. This franchise is run as a family business, and the father and son team are happy to work alongside fellow businessmen to make their workplaces shine with secure, safe workshops or commercial sheds.
As a collective team, Shed Boss Fleurieu staff have over 50 years experience in the industry, with backgrounds in construction, production management and finance, so you can rest assured your business premises will be built with precision and good planning. The team here take pride in seeing sketches on paper or initial plans transform into a building that is completed well, so don't hesitate to get in touch for your next project.
ShedBoss Fleurieu is independently owned and operated under license by
Boss Builders Pty Ltd, ABN: 64 146 771 691

Proudly ShedSafe™ accredited